MAJIC: A High School Leadership Council Advisory Board
Communal Advisory Board Members
Communal Advisory Board Members

CANTOR RICHARD SCHWARTZ, TEMPLE BETH DAVID
Cantor Schwartz received his Bachelor of Arts in vocal performance from the University of Massachusetts at Amherst and subsequently studied with cantors Samuel Kelemer, William Sharlin and Nathan Lam to prepare for a career in the cantorate. He is a commissioned and invested member of both the American Conference of Cantors (Reform) and the Cantors Assembly (Conservative) and a fellow of the Institute of Jewish Spirituality having completed their Cantorial Leadership program in 2005. In 2011 Cantor Schwartz received a Masters of Arts in Education and Bachelor of Hebrew Letters from American Jewish University in Los Angeles.

EDINA LEKOVIC, MUSLIM PUBLIC AFFAIRS COUNCIL
As MPAC's Director of Policy & Programming, Edina leads the MPAC team of staff and volunteers on strategic initiatives in government relations, media outreach and interfaith collaboration, while also coordinating the organization's approach to domestic and international affairs. Additionally, Edina acts as a spokeswoman for the American Muslim community to media outlets, government officials, interfaith leaders, academic institutions, and community groups. From 2004-2010, Edina served as MPAC's Communications Director. Edina has appeared on national media outlets, including CNN, BBC, and MSNBC. Since joining MPAC, Edina's work has also been featured in several leading newspapers, including the Wall Street Journal and Los Angeles Times. Named one of the Top 500 Influential Muslims in the World in 2009, Edina is a proud graduate of the American Muslim Civic Leadership Institute, and has participated in conferences hosted by the United Nations.

MERRILL ALPERT, UNITED SYNAGOGUE YOUTH
Merrill Alpert is the Regional Youth Director of Far West United Synagogue Youth. She received her degree in Jewish Studies from UCLA and returned to Valley Beth Shalom, her childhood synagogue to serve as the youth director for 18 years. Merrill a masters in Jewish Communal Service from Hebrew Union College before accepting the position as regional director where she now oversees more than 1600 students. She is the mother of four.

IMAM RUSHDAN MUSTAFA MUJAHID-DEEN, MASJID BILAL
Imam Rushdan is the associate imam of Masjid Bilal Islamic Center. From 2001-2005, he worked with the National Young Adult Association (NYAA) as the Western Sectional representative and vice president. As a member of the NYAA, he was invited to be a part of the World Council of Religion & Peace national discussion on global youth issues. In 2005, he moved to Gary, Indiana and enrolled in Imam W Deen Mohammed's class located in Hazel Crest, IL., where he studied Qur'anic Arabic, Islamic Studies, and Comparative Religion. Imam Rushdan currently resides in Los Angeles, CA and is active in community outreach for Masjid Bilal Islamic Center.

RABBI SARAH BASSIN, TEMPLE EMANUEL
Rabbi Sarah Bassin of Temple Emanuel of Beverly Hills. She traveled to Iran in November 2008 as part of a civilian diplomacy delegation. From 2009-2011, Sarah served as the program manager at the Center for Muslim/Jewish Engagement where she implemented the first comprehensive survey on Muslim-Jewish relations in the United States. She received a certificate in Jewish Non-Profit Management in August 2010 and was ordained as a rabbi in May 2011 by Hebrew Union College.

JIHAD TURK, BAYAN CLAREMONT
Jihad Turk serves as Dean of Bayan Claremont, an Islamic graduate college designed to educate Muslim scholars and religious leaders. He is also a founding Board Member of Claremont Lincoln University, a multireligious graduate school. Jihad has served as the Director of Religious Affairs at the Islamic Center of Southern California, the oldest and largest mosque in the Los Angeles area. Jihad actively engages in interfaith dialogue with Jewish and Christian communities and serves on the boards of several interfaith peace organizations. Additionally, he has been featured in the Los Angeles Times, as well as in films and documentaries on Islam, and has appeared on CNN and the History Channel. His current interests also include identity formation in the American-Muslim community, interfaith relations, Islamic reform movements, and community leadership and development with a focus on youth.

RABBI NEIL COMESS-DANIELS, CONGREGATION BETH SHIR SHALOM
Rabbi Neil Comess-Daniels serves as the rabbi of Congregation Beth Shir Shalom in Santa Monica. He is known for his stng personal commitment organizations that deal with interracial, interfaith, and homelessness issues. He has chaired the Martin Luther King, Jr. Westside Coalition and the Interfaith Holocaust Service and also serves on the boards of the Western Region of the Jewish Federation Council and the Westside Interfaith Council. A graduate of UCLA, Rabbi Comess-Daniels was ordained in 1979 at the Hebrew Union College. He is married and has two children.

JOUMANA SILYAN-SABA, CITY OF LOS ANGELES HUMAN RELATIONS COMMISSION
Joumana Silyan-Saba is a Policy Advisor for the City of Los Angeles Human Relations Commission with a focus on Community-Government Relations as it pertains to addressing areas of discrimination and exclusion. Ms. Silyan-Saba works directly with communities to promote healthy inter-group relations. Prior to that Ms. Silyan-Saba was a Program Director for Community and Inter-group Conflicts at the Asian Pacific American Dispute Resolution Center. Ms. Silyan-Saba completed an M.A in Negotiation and Conflict Management at California State University Dominguez Hills (CSUDH) in December 2002. She has since taught graduate courses at CSUDH on conflicts management and peace building.

RABBI LARRY SCHEINDLIN, SINAI AKIBA ACADEMY (EMERITUS)
Rabbi Scheindlin is a graduate of the University of Pennsylvania and holds Master's degrees from UCLA and the Jewish Theological Seminary, where he was also ordained as a rabbi. Since 1977 he has led faculty, parents and students toward the advancement of education, religious life and institutional development at Sinai Akiba Academy. Under his direction Sinai Akiba Academy has grown from 170 to 700 students. Rabbi Scheindlin is a recipient of the Milken Outstanding Jewish Educator Award. He has published numerous articles, conducted workshops and taught courses on varied subjects including curriculum, school governance and administration, and in his area of unique expertise, the significance of emotions in both general and spiritual education.
KARIM GOWANI, AGA KHAN ISMAILI COUNCIL
A graduate of California Lutheran University, Karim Gowani holds a Masters of Business Administration in Finance, and works for the Northrop Grumman Corporation's Investments & Trust Department as a manager. He is part of the team, which is responsible for managing various retirement plan assets and investment vehicles totaling over 45 billion in assets, including defined benefit plans, defined contribution/401(k) plans, and global pooled investment funds. He has been a Community Ambassador and volunteer for the Aga Khan Ismaili Council for the Western United States for over 10 years. Karim supports and directs I-CERV (Ismaili Community Engaged In Responsible Volunteering), the Ismaili community's service initiative. In addition, as part of a focus on community bridge-building, he supports numerous outreach activities of the Ismaili community in California.

RABBI RON STERN, STEPHEN S. WISE TEMPLE
Rabbi Ron Stern of Stephen S. Wise Temple is originally from Morristown, New Jersey. He graduated cum laude from the University of Rochester and was ordained at Hebrew Union College in New York. He also attended HUC in Los Angeles. Rabbi Stern joined the clergy staff at Stephen S. Wise Temple in 1998 after serving as Associate Rabbi at Temple Ahavat Shalom in Northridge. Rabbi Stern serves on the Executive Committee of the Southern California Board of Rabbis and the Interreligious Affairs Council and the Energy Independence committee of the American Jewish Committee. He is also a pioneer member of the award-winning Jewish Family Service Rabbi-Social Worker Roundtable and a member of the Council on the Environment and Jewish Life`s "Kitchen Cabinet" of religious leaders engaged in community advocacy to fight global warming.

MARWA ABDELGHANI, MAJIC ALUMNI
Marwa Abdelghani holds a bachelor's in Literary Journalism from the University of California, Irvine. She was previously the Muslim Public Affairs Council Media Fellow. Abdelghani has been published on publications such as The Islamic Monthly, Coming of Faith, Patheos, AltMuslimah, and OnFaith, and has been featured on news networks speaking about Islam and Muslims in America on FOX News, KTLA 5, and NBC 4.

SARA-JEAN LIPMEN, TEMPLE EMANUEL
Sara-Jean Lipmen is the educational director at Temple Emanuel of Beverly Hills. Prior to Joining Temple Emanuel, Sara-Jean served as the regional director of the National Federation of Temple Youth.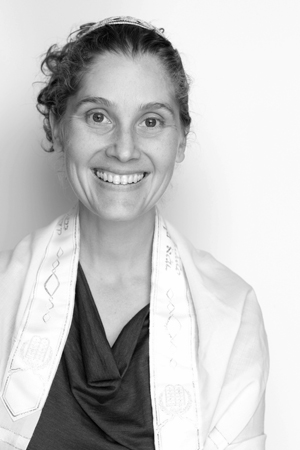 RABBI SUSAN GOLDBERG, WILSHIRE BOULEVARD TEMPLE
Rabbi Susan Goldberg is a fourth-generation Angeleno who brings a spiritual depth and intellectual rigor to the team. She has been at the Wilshire Boulevard Temple since 2013 and has been committed to cross-cultural dialogue and social justice. She is a cofounder of Arts and Action, a community arts and culture space in the MacArthur Park neighborhood of LA. Her leadership has been featured in the Los Angeles Times, the Jewish Journal, and on radio stations KPCC and KNX. Rabbi Susan was ordained by the Academy for Jewish Religion, California. Prior to becoming a rabbi, she was a dancer and choreographer, performing in venues all over the world and teaching Laban Movement Analysis in a number of universities, including Loyola Marymount and CalArts. Rabbi Susan has served as a consultant to and the designer/facilitator of workshops for such organizations as the Anti-Defamation League, and was the Co-Director of the Human Relations Awareness Program for the Los Angeles Human Relations Commission. Currently she is part of the Southern California Muslim Jewish Forum, among several other organizations. Most importantly, she dances in her living room with her husband and their three kids.
SAALIHA KHAN, ISLAMIC SOCIETY OF WEST VALLEY
Saaliha is a passionate bridge-builder who seeks to lead a life of service, foster transformative change and empower communities. Saaliha is a proud Angeleno who studied Government, Arabic, and Justice & Peace Studies at Georgetown University in Washington, DC. She currently works as the Government and Community Relations Manager at the Northeast Valley Health Corporation, and formerly worked as the Communications and Project Manager at NewGround: A Muslim-Jewish Partnership for Change, housed within the LA City Human Relations Commission at LA City Hall. Saaliha is the Youth Group Coordinator at the Islamic Society of West Valley, and the Community Engagement Director for the San Fernando Valley Young Democrats.

SAMIA BANO, ACADEMY OF THRIVING
Samia is the Happiness Expert & Founder of www.AcademyOfThriving.com. She is on a mission to eliminate suffering from the world by empowering people to live with inner peace and joy through transformative education that shifts us from just surviving to thriving in life! Samia serves as a co-facilitator of MAJIC (Muslims And Jews Inspiring Change) which is NewGround's High School leadership council. She is proud and excited to be a part of MAJIC because it is planting seeds for a better tomorrow by providing a safe space for our youth, our next generation of leaders, to build relationships between Muslims and Jews that can transform their communities through lasting partnership.

ZVI SMITH, YESHIVA UNIVERSITY OF LOS ANGELES
A magna cum laude graduate of Princeton University with a degree in Politics, Zvi is fluent in Hebrew and Arabic and has a wealth of community organizing experience including in Lebanon and Libya. A doctoral candidate in Politics at New York University, Zvi was awarded the MacCraken Fellowship. With a background in mediation and facilitation, Zvi Smith serves as the co-facilitator for MAJIC along with Samia Bano.