At NewGround, we make space for hard conversations on a backdrop of empathy and relationship. NewGround was founded because people were unequipped to engage in difficult conversations, and were walking away from their relationships. This is why, rather than making statements, we convene so that our people can broach these topics bravely. We've already been engaging in these conversations within our fellowship cohorts, and we are committed to getting better at it.
Over the past decade, we've learned from convening Muslims and Jews that it can be especially difficult to have conversations among our own people. As such, this is an important time to address the racisms that exist in our communities, and to nurture our capacity to have these complicated conversations within our communities and with our families.
Our Change-makers have been doing this very work, and we are dedicating this newsletter to their voices and their efforts. We hope you'll take time to read their perspectives below.
Our alumni have been active in continuing important conversations around race in the United States, through online thought leadership as well as through facilitation. NewGround alum Nate Looney, JOC Recruiter for Avodah, recently wrote a timely and moving piece for Medium, in which he discusses many of the challenges and dilemmas he faces as a Jew of Color. Fellowship alumnus Reza Bavar also recently published a piece on Medium, detailing his journey of deep listening, which started him off in one place and ended up taking him to another. You can read both Nate's important analysis and Reza's reflection on Medium.
Sultan Sharrief, filmmaker and NewGround alum, was at the premiere protests in Santa Monica. Here, he recounts negotiations between the protesters and the Santa Monica police, and the occurrence of subsequent arrests; he also shares his own family story. This elaborate, first person account may give you some perspective on a variety of active elements floating around on the ground that day.
On June 12th, Umar Hakim, NewGround alum and Executive Director of the ILM Foundation, was the emcee of L.A. Voice's interfaith gathering on racial equity and action. The event featured the powerful words of Bishop William Barber and Rev. Angel Kyoto Williams, and many others including other friends of NewGround.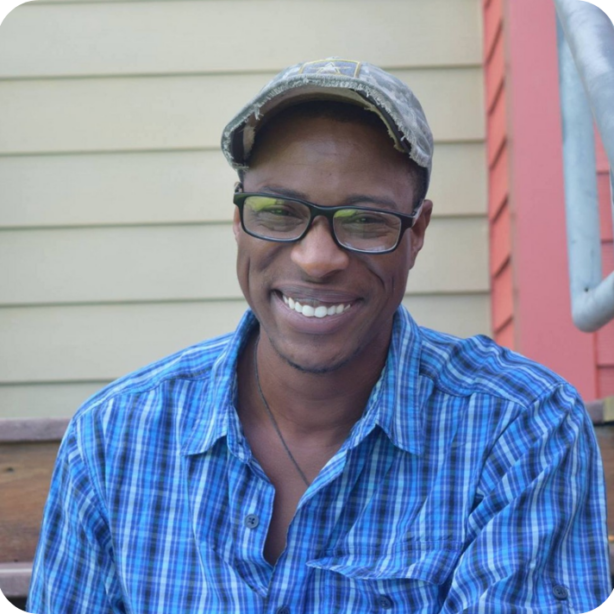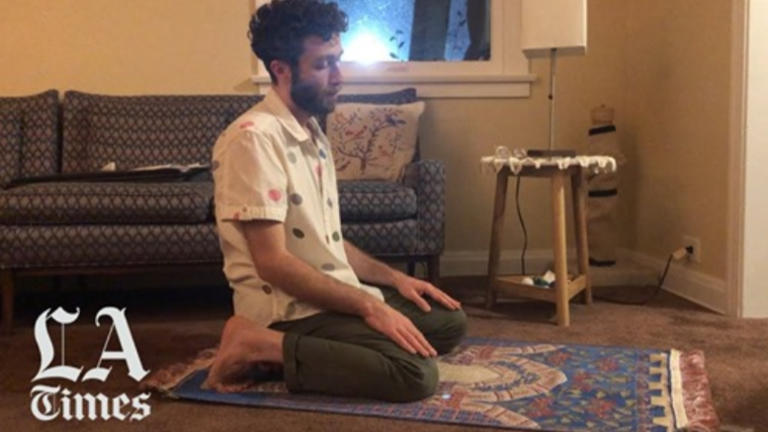 On April 30, 2020, NewGround hosted its first ever virtual Iftar.
Many of you know that the annual NewGround Community Iftar is a tradition very near and dear to our hearts and to the Los Angeles interfaith community. Each year, NewGround convenes hundreds of Angelenos across faith, class, and race for a night of breaking bread, facilitated table-side dialogue, and commemorating the month of Ramadan.
This year, we were unable to convene in person, but something didn't feel right about not gathering at all this year.
We made the decision to host our Iftar, for the very first time, virtually. Streamed on Facebook Live, thousands of you showed up and made the evening a meaningful, communal, and spiritually fulfilling experience.
Among those thousands of you who tuned in were our friends at the Los Angeles Times, Voice of America, the Forward, and ABC News, who have recently released coverage of the evening for all to enjoy. We encourage you to read, watch, share, and soak in the familiar faces!
A video of the event is available to view on both YouTube, as seen below, and Facebook, with the latter also including preservation of comment section engagement.

NewGround exists to convene and build community.
So what do we do when community safety requires that we physically distance ourselves from each other?
Right now, the need for connection and community is more urgent than ever. We are mindful of the risks that we face at this moment. We also know that, under these circumstances, it is easy to feel distanced from one another.
However, this time of physical separation doesn't need to be a time of social isolation. What we hope will follow the COVID-19 outbreak is the opportunity to reflect, rekindle, and strengthen bonds in intentional and creative ways.
In that spirit, we will gather online for our Community Iftar on the evening of April 30, 2020 for a virtual experience of spiritual reflection and community building. We are currently in the planning process, and are working to make sure that the event is distinctive, engaging, and fulfilling in this time of increasing distance.
We invite you to "be" with us on April 30. We hope you'll also sponsor this community-building event at a time when convening matters most. Your presence and support will help us continue our essential work as we meet this moment together.
We've been contemplating the ways in which our NewGround community can actively support one another and our city at large. We look forward to sharing these reflections with you soon. We are here to care for one another in times of uncertainty, and it is through that mutual care that together we will be able to move through the challenges that lie ahead.
This year, Taiji Terasaki has brought his unique artistic style to Los Angeles! His exhibit, Transcendients: Heroes at Borders, is a chance to learn about, reflect on, and celebrate heroes in Los Angeles, across the nation, and within our own lives. This exhibit is currently on display at the Japanese American National Museum (JANM) and includes NewGround's own Aziza Hasan, as well as advisory board member Rabbi Susan Goldberg.
Last weekend, JANM spearheaded a community celebration for these low-key Los Angeles heroes, as well as the values and work that they stand for. It was a day of music, workshops, and community-building. During the program, Aziza spoke on a panel discussion regarding human rights in Los Angeles. Read more about the celebratory event in The Rafu Shimpo's coverage of the day.
The Transcendients exhibit will be on display February 1 – March 29. For information on visiting the exhibit, visit JANM.org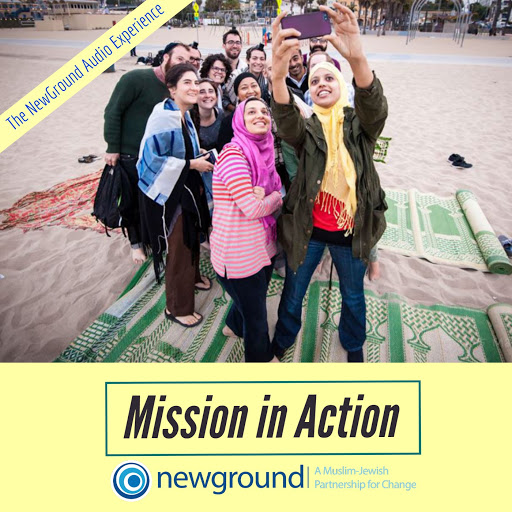 As many of you know, Spotlight Storytelling was once a staple of the NewGround community. It was an annual event held specifically to provide a space in which community members could listen to one another's stories and express their own through performance and different forms of performance art. Spotlight is no longer held annually, with its final formal installment held in 2018, but we couldn't imagine a year without sharing NewGround stories. That's why, starting today, we're releasing all of the stories from our Spotlight tradition in the form of a weekly podcast titled 'Mission in Action.' In addition to stories shared throughout the Spotlight years, we'll also be releasing stories and archival footage from NewGround projects that have never before been publicized.
You can listen to 'Mission in Action' on the following platforms:
Click here to listen on Spotify
Click here to listen on Apple Podcasts
Click here to listen on Stitcher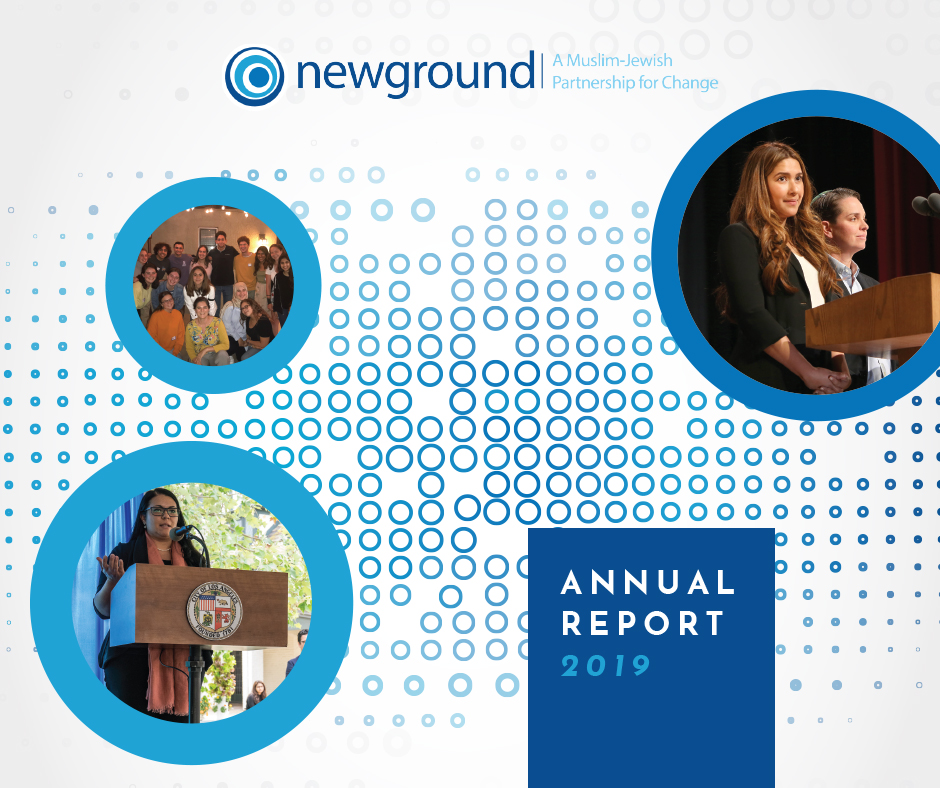 The NewGround team always strives to ensure that our mission continues to hold presence in everything we do. In keeping with this goal, we have recently published our 2019 Annual Report to the Community, which includes details on everything from this fiscal year's finances, to alumni/a engagement, to the success of our Iftar this past May.
Take a look at the annual report below, and let us know if you have any questions by emailing info@muslimjewishnewground.org! We love hearing from you.
Annual-Report-2019-v2e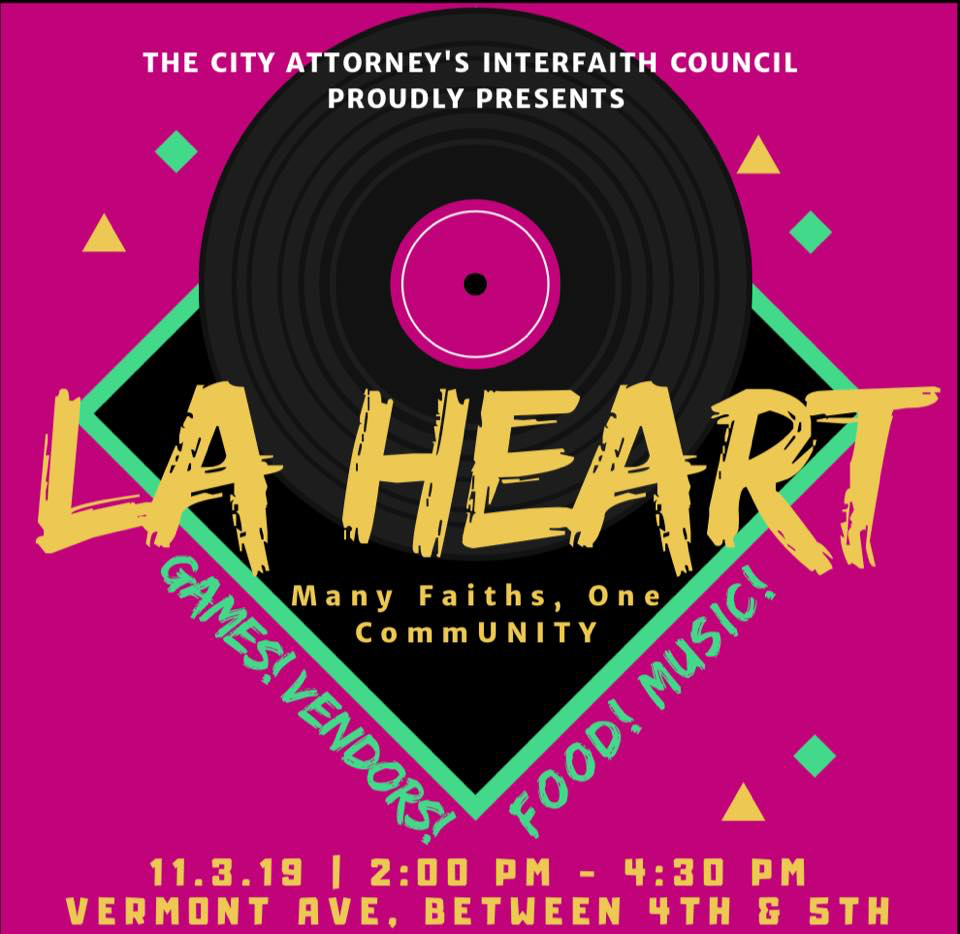 The first ever L.A. Heart block party was held this Sunday, 3 November, on Vermont Avenue between 4th & 5th. The Koreatown-based party was a joint effort by the Los Angeles City Attorney's Interfaith Council, NewGround alum Hedab Tarifi, and an abundance of community-based organizations from around our city to bring together Angelenos of all faiths, backgrounds, and ideologies to mingle, get involved in the community organizing scene, and enjoy food and entertainment side by side.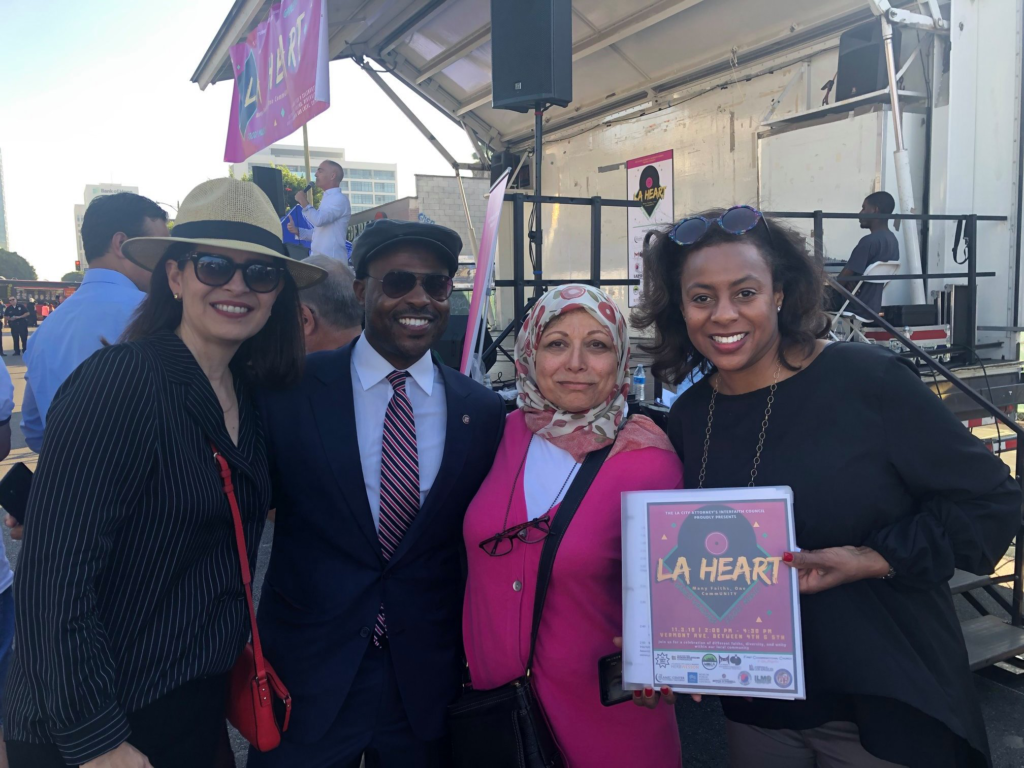 NewGround was one of the many community-based organizations that partnered with L.A. Heart for the event. Our own Aziza Hasan, who helped coordinate the effort as part of the City Attorney's Interfaith Advisory Council, also attended. Organizations and coalitions that sponsored the event alongside NewGround included our own L.A. Human Relations Commission, the Muslim Public Affairs Council, L.A. Voice, Islah L.A., and the Los Angeles Bah'ai Center; our gracious hosts were the staff of the Islamic Center of Southern California.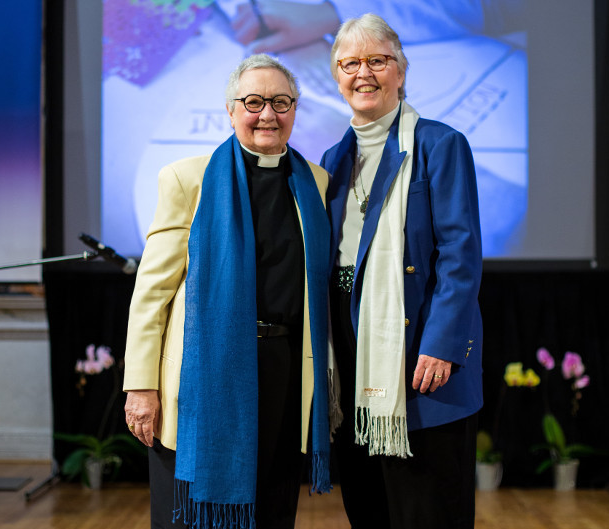 Rev. Dr. Gwynne Guibord was one of NewGround's first friends, because she was one of those who possessed knowledge about the absolute need for community building. She knew it was a prerequisite to a pluralistic society, and she had faith that Los Angeles would become just that.
Dr. Guibord was correct in her projections. Los Angeles is increasingly showing its communal, interfaith colors, and she was a key player in the the process. She attended press conferences, supported interfaith events, and protested injustices alongside her fellow Angelenos. She founded The Guibord Center as a means to organize around her pluralistic ideals, and made her mark on our City through dedication to them.
NewGround thanks Dr. Guibord for everything we have learned from her. She is survived by her partner, Dr. Lo Sprague, and her legacy, which lives on in The Guibord Center.

Our 2018-19 cohorts have now officially wrapped, Ramadan has concluded with Eid al-Fitr, our Community Iftar was a success, and we continue to witness accelerating social change around the world. Included in this change is that which is taking place in our own communities through the creation and maintenance of relationship-based dialogue.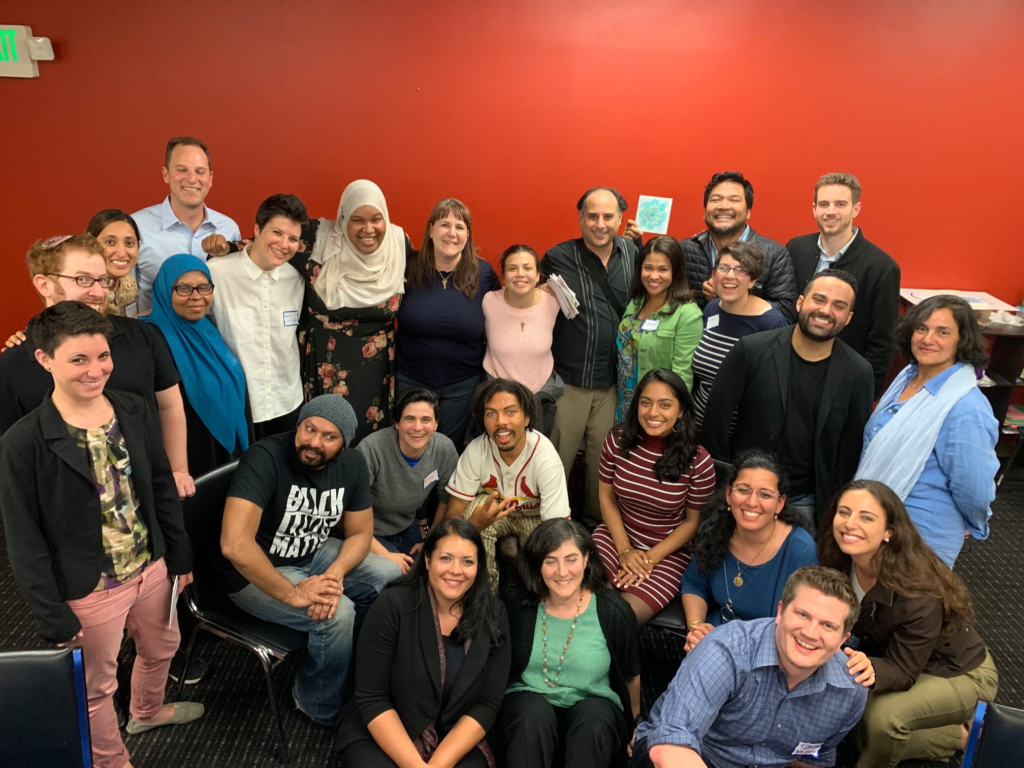 Our 2018-19 programming may have come to a close these past few weeks, but the work of our fellows and MAJICians continues to push them to strengthen bonds, address social issues, and contribute to the birth of a healthier and more empathetic society. They're doing that in a multitude of different ways, and their official Change-maker projects (of which "Cooking up Connections" is the most recent) are just the beginning.
Watch: A Muslim-Jewish Call for Conversation on Mental Health
Watch: Seeds of Partnership, or the Sardari & Moradi Story
Watch: Cooking up Connections, or Muslims & Jews Chat with Refugee Chefs in Southern California