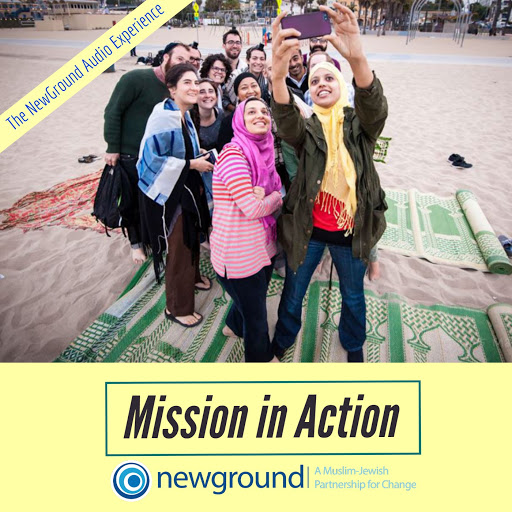 As many of you know, Spotlight Storytelling was once a staple of the NewGround community. It was an annual event held specifically to provide a space in which community members could listen to one another's stories and express their own through performance and different forms of performance art. Spotlight is no longer held annually, with its final formal installment held in 2018, but we couldn't imagine a year without sharing NewGround stories. That's why, starting today, we're releasing all of the stories from our Spotlight tradition in the form of a weekly podcast titled 'Mission in Action.' In addition to stories shared throughout the Spotlight years, we'll also be releasing stories and archival footage from NewGround projects that have never before been publicized.
You can listen to 'Mission in Action' on the following platforms:
Click here to listen on Spotify
Click here to listen on Apple Podcasts
Click here to listen on Stitcher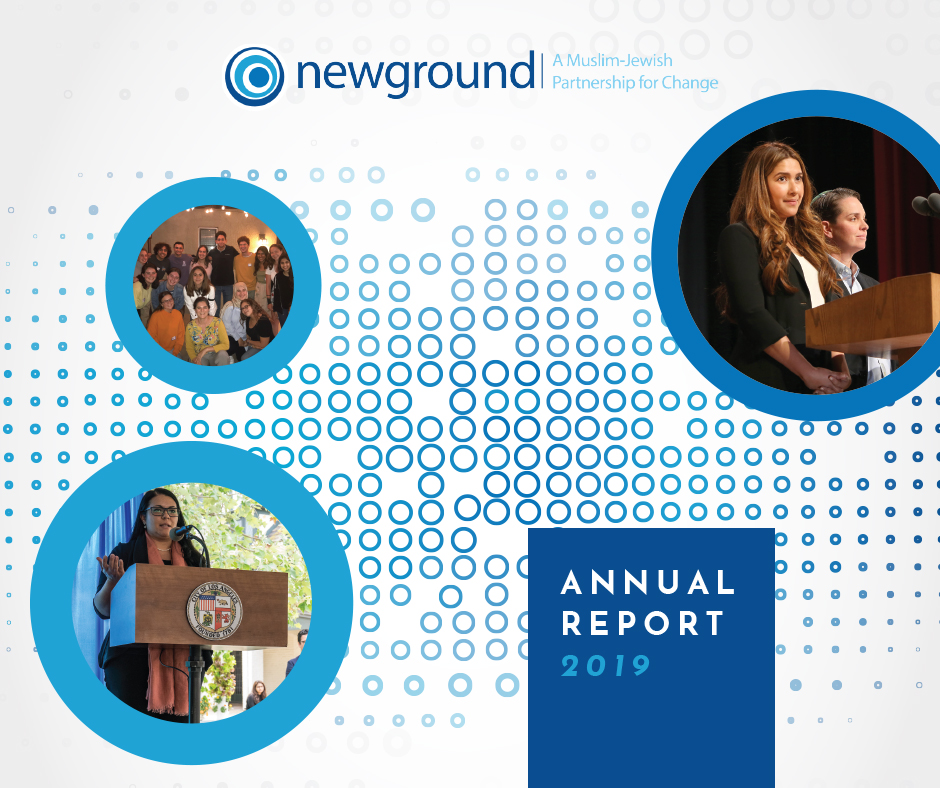 The NewGround team always strives to ensure that our mission continues to hold presence in everything we do. In keeping with this goal, we have recently published our 2019 Annual Report to the Community, which includes details on everything from this fiscal year's finances, to alumni/a engagement, to the success of our Iftar this past May.
Take a look at the annual report below, and let us know if you have any questions by emailing info@muslimjewishnewground.org! We love hearing from you.
Annual-Report-2019-v2e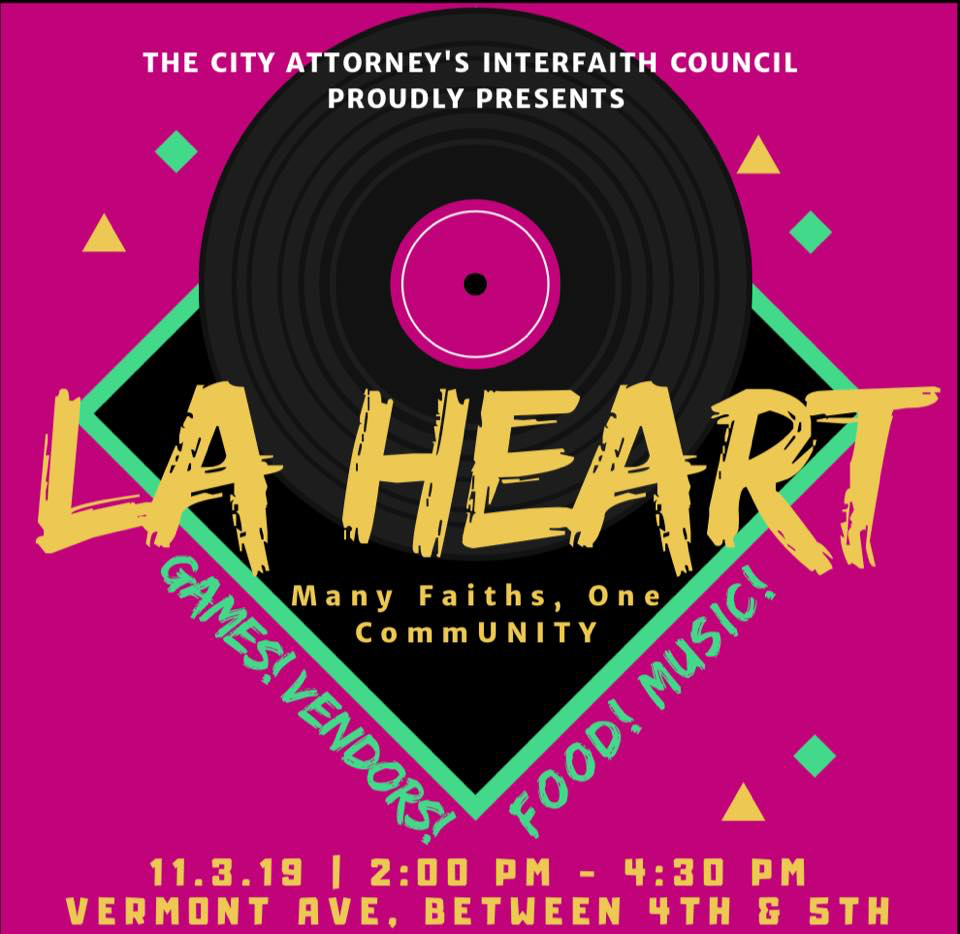 The first ever L.A. Heart block party was held this Sunday, 3 November, on Vermont Avenue between 4th & 5th. The Koreatown-based party was a joint effort by the Los Angeles City Attorney's Interfaith Council, NewGround alum Hedab Tarifi, and an abundance of community-based organizations from around our city to bring together Angelenos of all faiths, backgrounds, and ideologies to mingle, get involved in the community organizing scene, and enjoy food and entertainment side by side.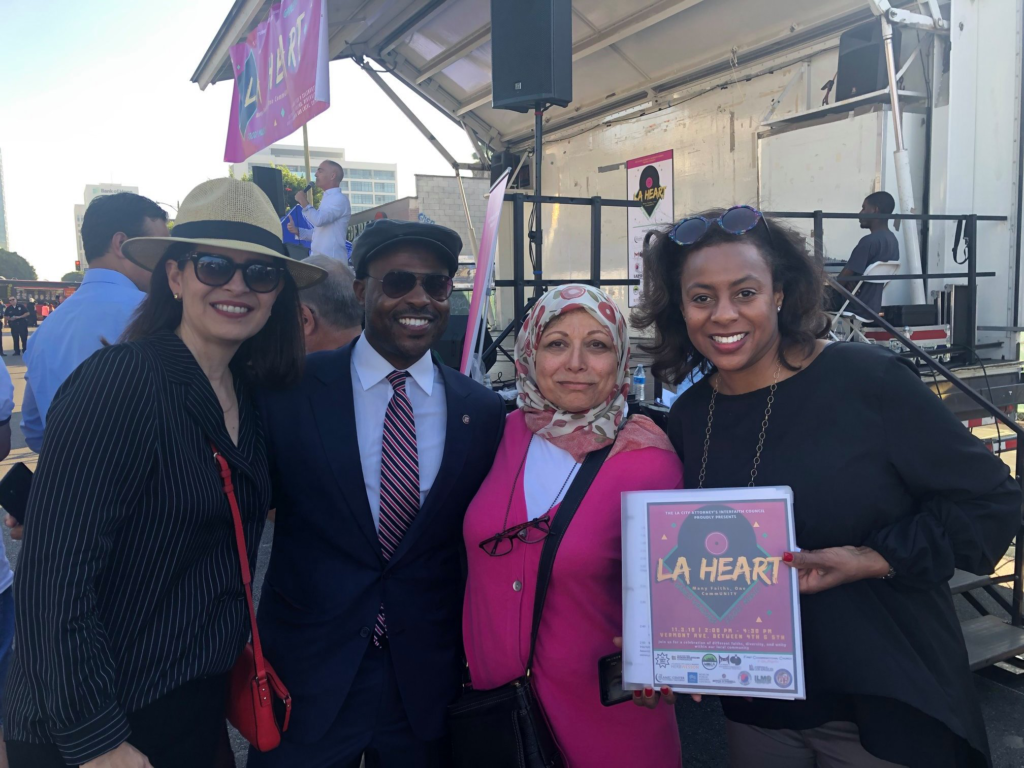 NewGround was one of the many community-based organizations that partnered with L.A. Heart for the event. Our own Aziza Hasan, who helped coordinate the effort as part of the City Attorney's Interfaith Advisory Council, also attended. Organizations and coalitions that sponsored the event alongside NewGround included our own L.A. Human Relations Commission, the Muslim Public Affairs Council, L.A. Voice, Islah L.A., and the Los Angeles Bah'ai Center; our gracious hosts were the staff of the Islamic Center of Southern California.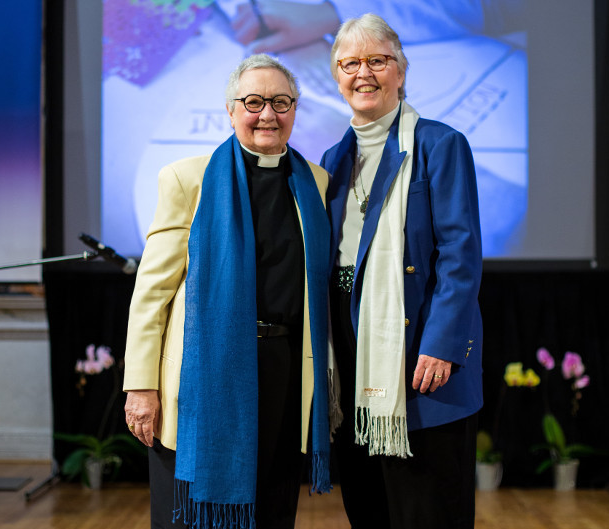 Rev. Dr. Gwynne Guibord was one of NewGround's first friends, because she was one of those who possessed knowledge about the absolute need for community building. She knew it was a prerequisite to a pluralistic society, and she had faith that Los Angeles would become just that.
Dr. Guibord was correct in her projections. Los Angeles is increasingly showing its communal, interfaith colors, and she was a key player in the the process. She attended press conferences, supported interfaith events, and protested injustices alongside her fellow Angelenos. She founded The Guibord Center as a means to organize around her pluralistic ideals, and made her mark on our City through dedication to them.
NewGround thanks Dr. Guibord for everything we have learned from her. She is survived by her partner, Dr. Lo Sprague, and her legacy, which lives on in The Guibord Center.

Our 2018-19 cohorts have now officially wrapped, Ramadan has concluded with Eid al-Fitr, our Community Iftar was a success, and we continue to witness accelerating social change around the world. Included in this change is that which is taking place in our own communities through the creation and maintenance of relationship-based dialogue.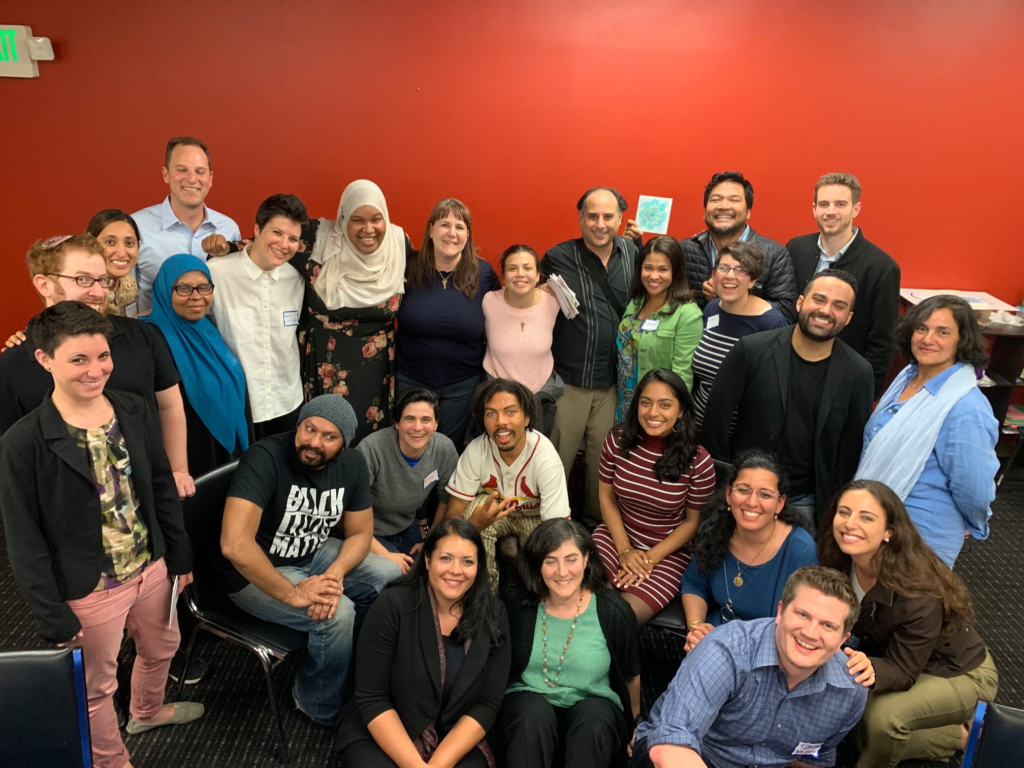 Our 2018-19 programming may have come to a close these past few weeks, but the work of our fellows and MAJICians continues to push them to strengthen bonds, address social issues, and contribute to the birth of a healthier and more empathetic society. They're doing that in a multitude of different ways, and their official Change-maker projects (of which "Cooking up Connections" is the most recent) are just the beginning.
Watch: A Muslim-Jewish Call for Conversation on Mental Health
Watch: Seeds of Partnership, or the Sardari & Moradi Story
Watch: Cooking up Connections, or Muslims & Jews Chat with Refugee Chefs in Southern California

This past week saw the City of Los Angeles bring underway the annual State of the City, during which Mayor Eric Garcetti outlines the strifes, successes, and recent experiences of our city as well as plans intended to improve the lives of Angelenos.
This year, NewGround board member Nurya Shabir, from the Islamic Center of Southern California, and Rabbi Jocee Hudson, from the Temple Israel of Hollywood, were invited to give the invocation speech at the ceremony. You can watch their full address, in accompaniment with the entire event itself, below.

NewGround has been informed that the beloved Ralph Fertig z"l has passed away.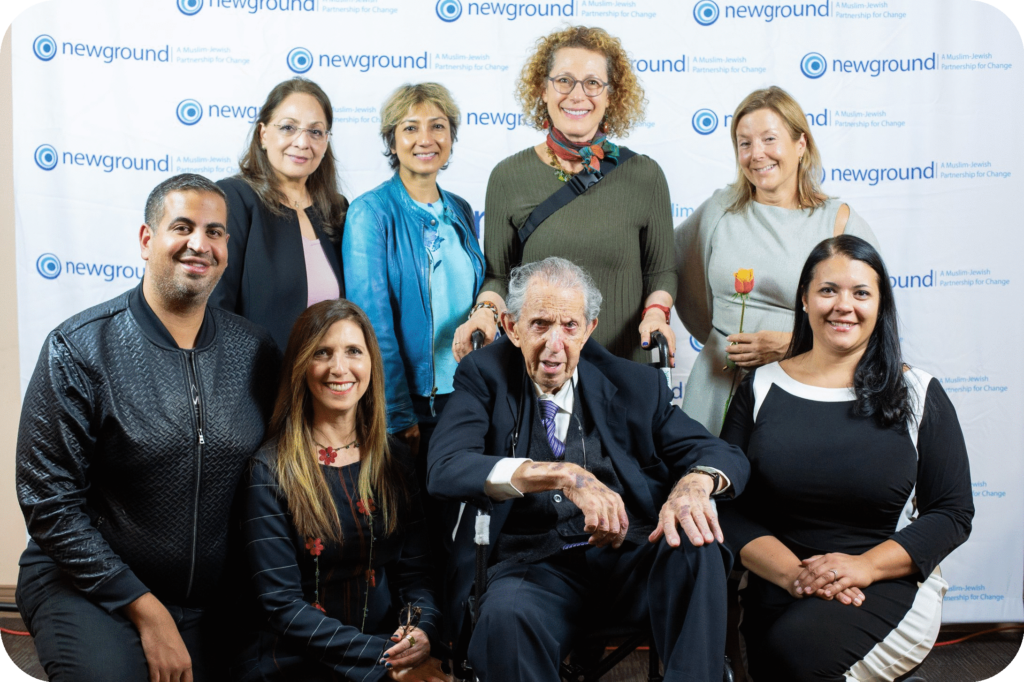 Aziza shares:
When I was in graduate school, I fell in love with the Civil Rights Movement in American History. As I read the accounts of what unfolded, I found myself in awe of the people I was reading about. These people made a conscious decision to take the higher road when provoked, to embrace love in the face of hate-filled actions, and to organize around a future where all are equal and all belong. Through my work with NewGround, I met Ralph and I heard his story about joining the Freedom Rides and almost losing his life as a result.

I was again struck with awe — taking that kind of a risk when he was already a father. I look at my own kids and meditate on these questions: Can we bring out our better angels and be committed to love and inclusion in the way that Ralph and so many others dedicated their lives? Are we up to the task of carrying that mantle in a long journey where many have already given so much to embrace love?

I invite you to take a few minutes to listen to a sliver of Ralph's story that was shared on the NewGround stage in November 2018. May we lift up his memory such that his courage may inspire us as we navigate the world ahead.
Ralph passed this weekend in Los Angeles. You can read his obituary on the L.A. Times. We hope to see you at his Memorial, which will be on April 7th at Leo Baeck Temple at 1PM.

On March 15, 2019, a white supremacist killed 51 people across two mosques in Christchurch, New Zealand, and was apprehended on his way to a third. We have been left shaken, angry, saddened, and disillusioned. We have also been left needing one another even more than before.
Our hearts, minds, and strifes are with those affected by these attacks. We are always with you and we always here for you. We would like to voice our love and support for the Muslim community everywhere and the people of New Zealand. Our program co-directors, Andrea Hodos & Tasneem Noor, have some words to share with you:
Amid the intensifying conversation taking place on Representative Ilhan Omar… We felt it important to host an event for our alumni to come together and share how they were feeling about the controversies surrounding Congresswoman Omar's comments. In these times, it is often easier to avoid the hard conversations, so it becomes essential to reconvene and keep ourselves from splitting off from one another.
We figured perhaps ten people would join us; it was last minute, and the middle of the week. We ended up with over 20 participants, barely fitting in the living room we were hosted in. At the moment when it might have been easier to avoid the conversation, our alumni came together to listen deeply to one another.
In the midst of our conversations, one of our alumni checked her phone and realized what was happening in New Zealand.
As we begin another week here at NewGround, our team is thinking of the families mourning in New Zealand. We are also thinking about how our emphasis on understanding and plurality becomes more relevant by the day. As Aziza reminds us, "Our destiny is intertwined and we should act like it."
This work will not be as fast as we want it to be. It never is. Still, we are grateful that even in the midst of it all, our connections and solidarity are stronger than the forces of hatred, fear, and violence.
Please take care of yourself, and know that your NewGround family is here for you. Please continue to reach out to others, and reach out to us, as well.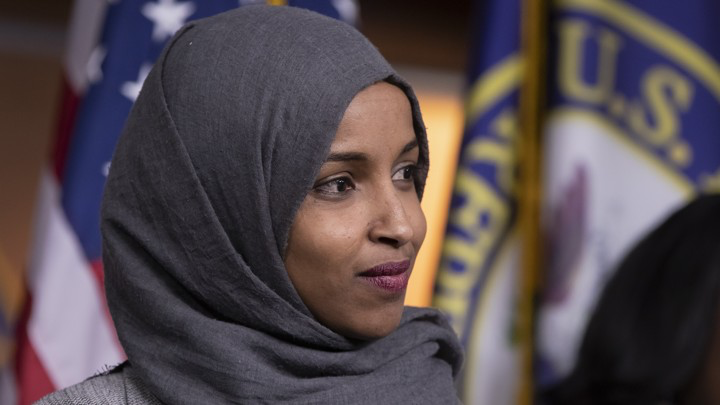 After a series of comments concerning her position on particular manifestations of support regarding Israel, freshly sworn in Congresswoman Ilhan Omar (D-MN) has become the unintentional public face of the rapidly intensifying debate around dialogue and public discourse, as well as the conversation about U.S.-Israel relations.
While her comments brought to the surface a thread of national commentary on antisemitism, the very response to her comments also brings up questions of communicative efficacy, cross-ideological understanding, and the politics of the Israel question.
Here at NewGround, we do not shy away from difficult conversations; indeed, it is a way for us to further understand one another, learn how to effectively address issues that we disagree on, and ultimately grow in the process.
NewGround executive director Aziza Hasan addressed these themes, and more, in a series of articles released by the Atlantic, the Huffington Post, Stars & Stripes, and the Independent, among others. Aziza emphasizes:
"Being able to talk through and seek deeper understanding with integrity and honesty, with respect, isn't in fashion—it's literally … not expedient. My biggest worry is that if we are so focused on winning all the time, where is that going to lead us…? …We're going to be a minority-majority country here pretty soon, and we need to figure out how we're going to interact in society."
You can read her full comments by following the links provided above.