NewGround exists to convene and build community.
So what do we do when community safety requires that we physically distance ourselves from each other?
Right now, the need for connection and community is more urgent than ever. We are mindful of the risks that we face at this moment. We also know that, under these circumstances, it is easy to feel distanced from one another.
However, this time of physical separation doesn't need to be a time of social isolation. What we hope will follow the COVID-19 outbreak is the opportunity to reflect, rekindle, and strengthen bonds in intentional and creative ways.
In that spirit, we will gather online for our Community Iftar on the evening of April 30, 2020 for a virtual experience of spiritual reflection and community building. We are currently in the planning process, and are working to make sure that the event is distinctive, engaging, and fulfilling in this time of increasing distance.
We invite you to "be" with us on April 30. We hope you'll also sponsor this community-building event at a time when convening matters most. Your presence and support will help us continue our essential work as we meet this moment together.
We've been contemplating the ways in which our NewGround community can actively support one another and our city at large. We look forward to sharing these reflections with you soon. We are here to care for one another in times of uncertainty, and it is through that mutual care that together we will be able to move through the challenges that lie ahead.
This year, Taiji Terasaki has brought his unique artistic style to Los Angeles! His exhibit, Transcendients: Heroes at Borders, is a chance to learn about, reflect on, and celebrate heroes in Los Angeles, across the nation, and within our own lives. This exhibit is currently on display at the Japanese American National Museum (JANM) and includes NewGround's own Aziza Hasan, as well as advisory board member Rabbi Susan Goldberg.
Last weekend, JANM spearheaded a community celebration for these low-key Los Angeles heroes, as well as the values and work that they stand for. It was a day of music, workshops, and community-building. During the program, Aziza spoke on a panel discussion regarding human rights in Los Angeles. Read more about the celebratory event in The Rafu Shimpo's coverage of the day.
The Transcendients exhibit will be on display February 1 – March 29. For information on visiting the exhibit, visit JANM.org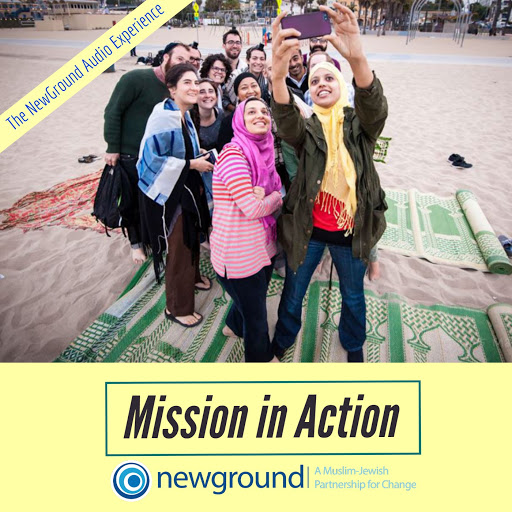 As many of you know, Spotlight Storytelling was once a staple of the NewGround community. It was an annual event held specifically to provide a space in which community members could listen to one another's stories and express their own through performance and different forms of performance art. Spotlight is no longer held annually, with its final formal installment held in 2018, but we couldn't imagine a year without sharing NewGround stories. That's why, starting today, we're releasing all of the stories from our Spotlight tradition in the form of a weekly podcast titled 'Mission in Action.' In addition to stories shared throughout the Spotlight years, we'll also be releasing stories and archival footage from NewGround projects that have never before been publicized.
You can listen to 'Mission in Action' on the following platforms:
Click here to listen on Spotify
Click here to listen on Apple Podcasts
Click here to listen on Stitcher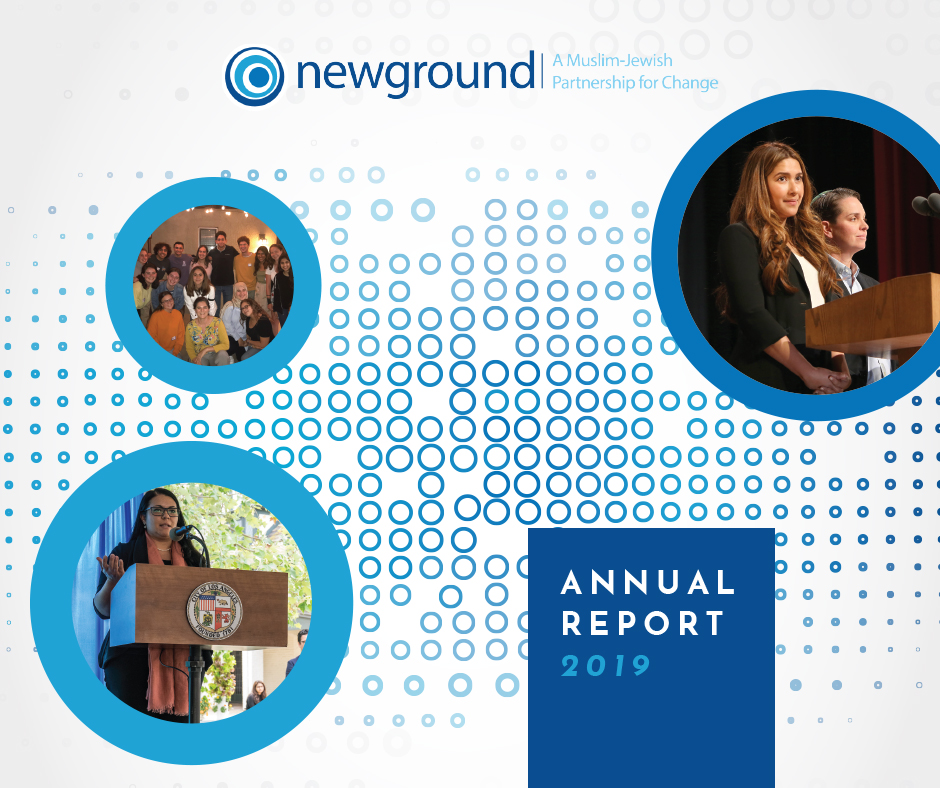 The NewGround team always strives to ensure that our mission continues to hold presence in everything we do. In keeping with this goal, we have recently published our 2019 Annual Report to the Community, which includes details on everything from this fiscal year's finances, to alumni/a engagement, to the success of our Iftar this past May.
Take a look at the annual report below, and let us know if you have any questions by emailing info@muslimjewishnewground.org! We love hearing from you.
Annual-Report-2019-v2e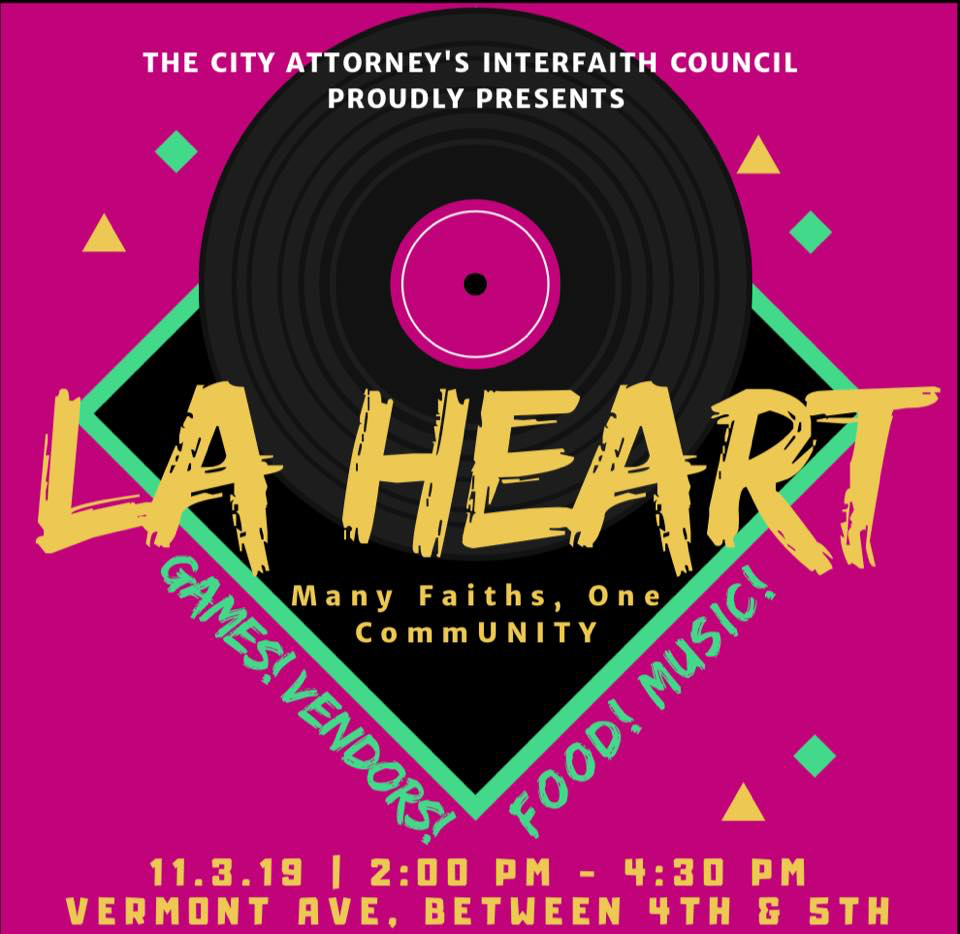 The first ever L.A. Heart block party was held this Sunday, 3 November, on Vermont Avenue between 4th & 5th. The Koreatown-based party was a joint effort by the Los Angeles City Attorney's Interfaith Council, NewGround alum Hedab Tarifi, and an abundance of community-based organizations from around our city to bring together Angelenos of all faiths, backgrounds, and ideologies to mingle, get involved in the community organizing scene, and enjoy food and entertainment side by side.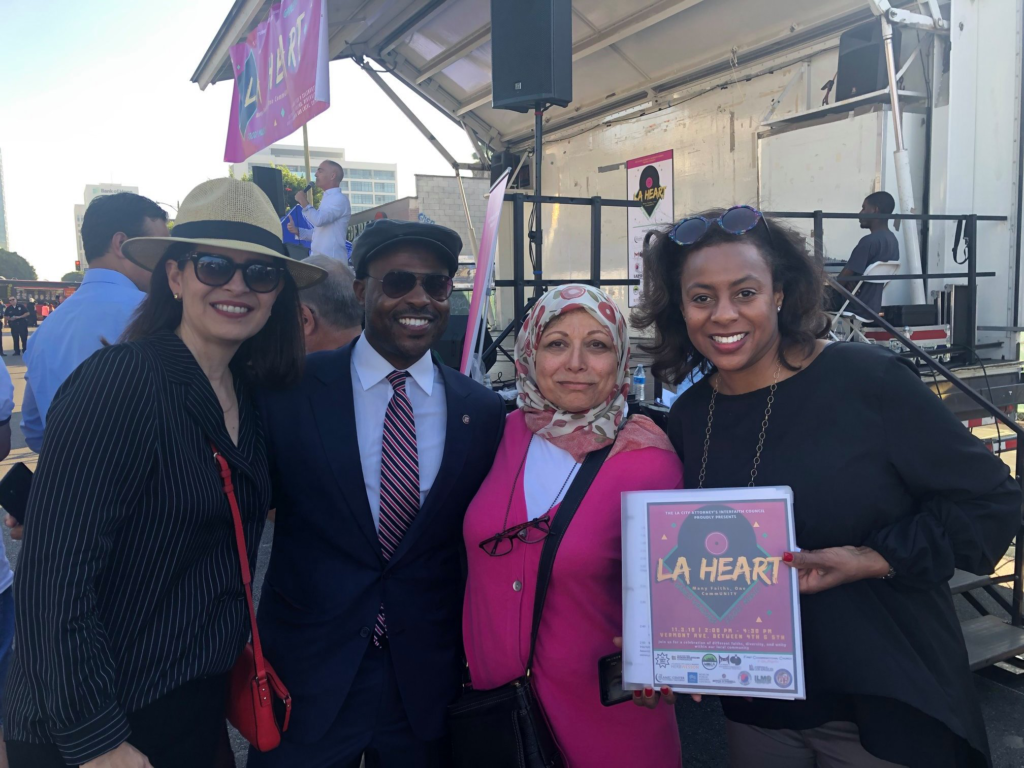 NewGround was one of the many community-based organizations that partnered with L.A. Heart for the event. Our own Aziza Hasan, who helped coordinate the effort as part of the City Attorney's Interfaith Advisory Council, also attended. Organizations and coalitions that sponsored the event alongside NewGround included our own L.A. Human Relations Commission, the Muslim Public Affairs Council, L.A. Voice, Islah L.A., and the Los Angeles Bah'ai Center; our gracious hosts were the staff of the Islamic Center of Southern California.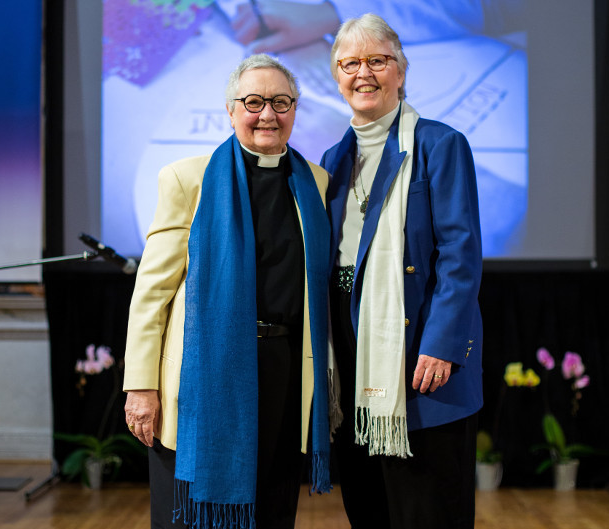 Rev. Dr. Gwynne Guibord was one of NewGround's first friends, because she was one of those who possessed knowledge about the absolute need for community building. She knew it was a prerequisite to a pluralistic society, and she had faith that Los Angeles would become just that.
Dr. Guibord was correct in her projections. Los Angeles is increasingly showing its communal, interfaith colors, and she was a key player in the the process. She attended press conferences, supported interfaith events, and protested injustices alongside her fellow Angelenos. She founded The Guibord Center as a means to organize around her pluralistic ideals, and made her mark on our City through dedication to them.
NewGround thanks Dr. Guibord for everything we have learned from her. She is survived by her partner, Dr. Lo Sprague, and her legacy, which lives on in The Guibord Center.

Our 2018-19 cohorts have now officially wrapped, Ramadan has concluded with Eid al-Fitr, our Community Iftar was a success, and we continue to witness accelerating social change around the world. Included in this change is that which is taking place in our own communities through the creation and maintenance of relationship-based dialogue.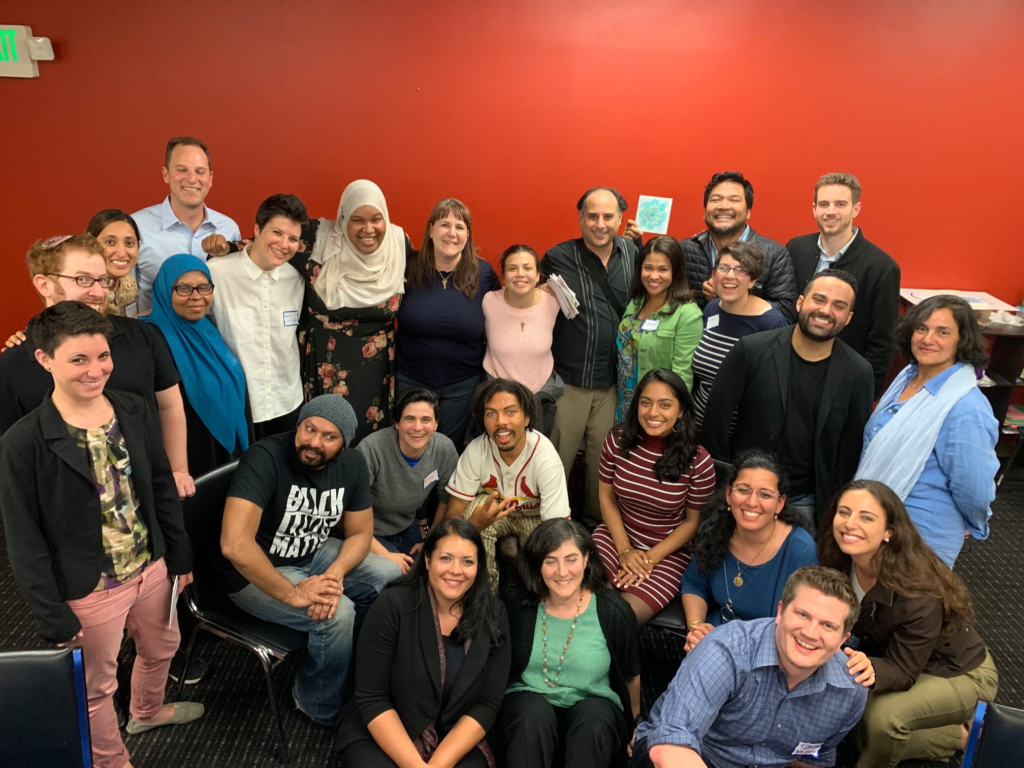 Our 2018-19 programming may have come to a close these past few weeks, but the work of our fellows and MAJICians continues to push them to strengthen bonds, address social issues, and contribute to the birth of a healthier and more empathetic society. They're doing that in a multitude of different ways, and their official Change-maker projects (of which "Cooking up Connections" is the most recent) are just the beginning.
Watch: A Muslim-Jewish Call for Conversation on Mental Health
Watch: Seeds of Partnership, or the Sardari & Moradi Story
Watch: Cooking up Connections, or Muslims & Jews Chat with Refugee Chefs in Southern California

This past week saw the City of Los Angeles bring underway the annual State of the City, during which Mayor Eric Garcetti outlines the strifes, successes, and recent experiences of our city as well as plans intended to improve the lives of Angelenos.
This year, NewGround board member Nurya Shabir, from the Islamic Center of Southern California, and Rabbi Jocee Hudson, from the Temple Israel of Hollywood, were invited to give the invocation speech at the ceremony. You can watch their full address, in accompaniment with the entire event itself, below.

NewGround has been informed that the beloved Ralph Fertig z"l has passed away.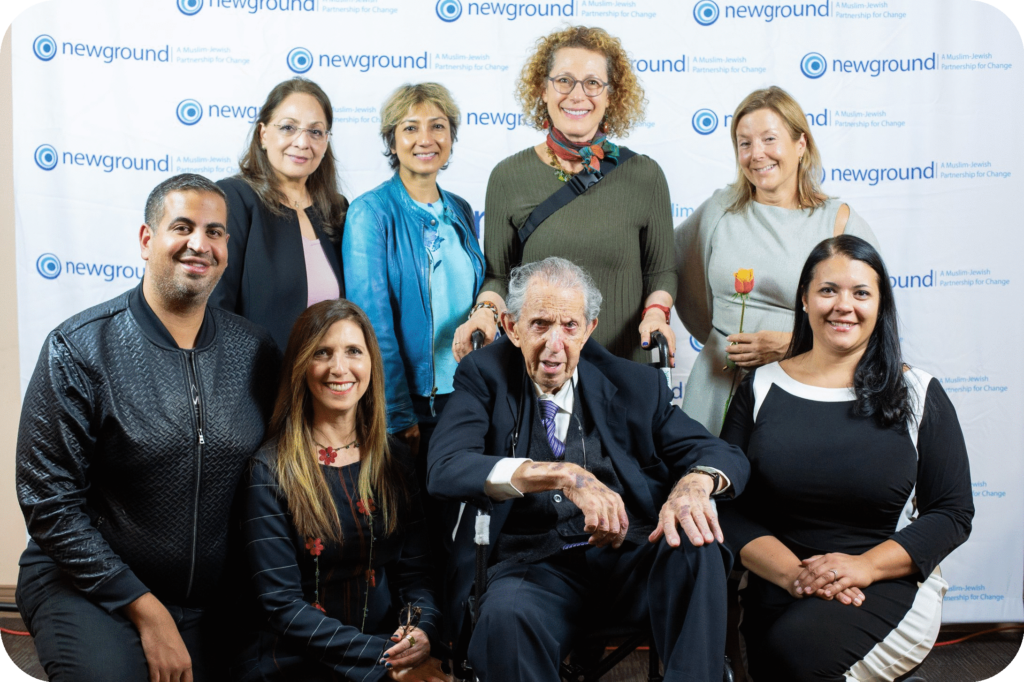 Aziza shares:
When I was in graduate school, I fell in love with the Civil Rights Movement in American History. As I read the accounts of what unfolded, I found myself in awe of the people I was reading about. These people made a conscious decision to take the higher road when provoked, to embrace love in the face of hate-filled actions, and to organize around a future where all are equal and all belong. Through my work with NewGround, I met Ralph and I heard his story about joining the Freedom Rides and almost losing his life as a result.

I was again struck with awe — taking that kind of a risk when he was already a father. I look at my own kids and meditate on these questions: Can we bring out our better angels and be committed to love and inclusion in the way that Ralph and so many others dedicated their lives? Are we up to the task of carrying that mantle in a long journey where many have already given so much to embrace love?

I invite you to take a few minutes to listen to a sliver of Ralph's story that was shared on the NewGround stage in November 2018. May we lift up his memory such that his courage may inspire us as we navigate the world ahead.
Ralph passed this weekend in Los Angeles. You can read his obituary on the L.A. Times. We hope to see you at his Memorial, which will be on April 7th at Leo Baeck Temple at 1PM.