The 2016-2017 MAJIC season culminated in the Y4Y Fair, or Youth for Youth, an event focused on educating the community about youth homeless and doing direct service to help homeless youth. The MAJICians wanted to show that two communities, Muslim and Jewish, could come together to make a positive change in the world.
Watch the video!
This is America – a place where young people come together across cultural and religious difference to create change and strengthen our civic fabric.NewGround's High School Leadership Council – MAJIC (Muslims and Jews Inspiring Change) invited the community to a day of learning, service and advocacy around the issues of Youth Homelessness for Global Youth Service Day. Together with Muslims, Jews and others from across Los Angeles, the youth learned from government organizations, non-profit organizations and student leaders about the issues facing homeless youth in our city, and actions we can take to support our young people. MAJIC students prepared and distributed over 300 hygiene packs and 50 $25 gift cards to homeless youth in Los Angeles! #IGotURBack #4thofJuly #Y4YFair #GYSD

Posted by NewGround: A Muslim-Jewish Partnership for Change on Monday, July 3, 2017
NewGround tackles homelessness, joining Mayor Eric Garcetti and more than 100 religious leaders from across LA, in launching Days of Compassion – an interfaith effort to rally faith community support in the fight to end chronic homelessness.
The faith leaders joined the Mayor in signing a pledge to "open our doors without fear, our resources without restraint, our minds without reservation, and our hearts without judgment." Over the next four months, they will put a renewed focus on the values of compassion, and lead their congregations in efforts to support their homeless neighbors — from hosting mobile showers in their parking lots to organizing tours of permanent supportive housing and offering day-storage for unsheltered Angelenos' belongings, so they can look for work and housing.
Read more here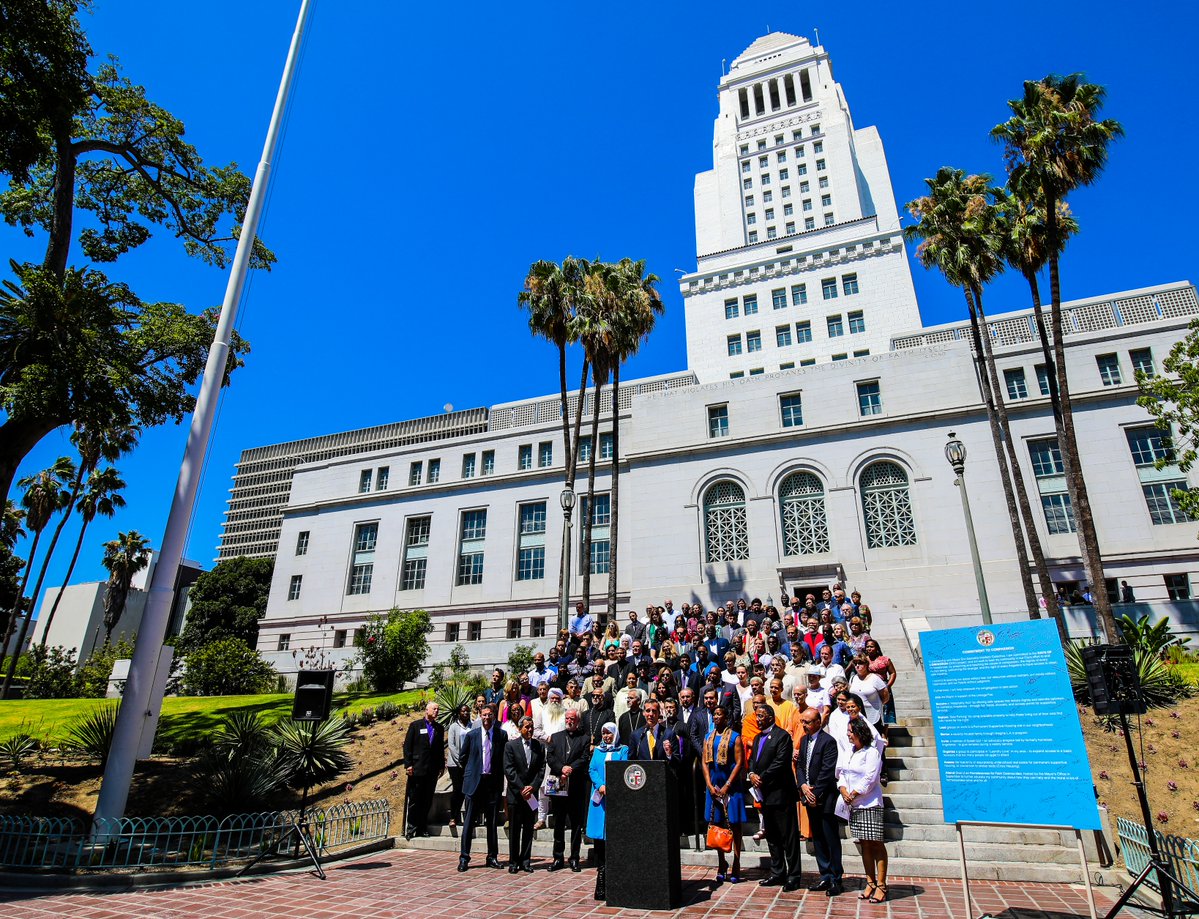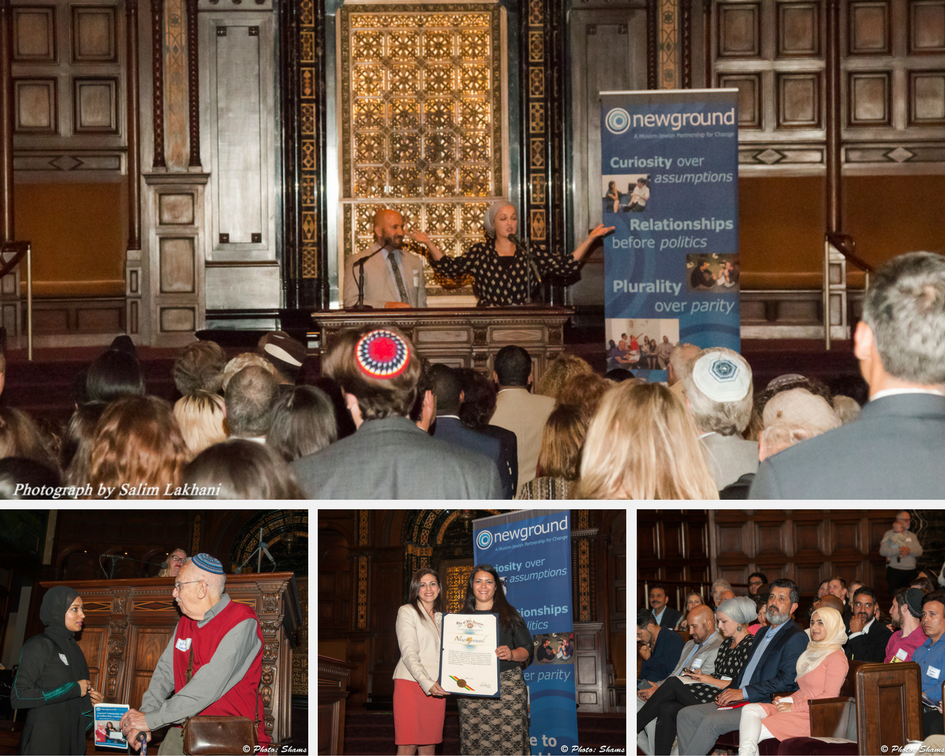 Over 400 Muslims and Jews attended NewGround's Community Iftar! Each year, NewGround convenes the largest gathering of Muslims and Jews in Los Angeles to break fast (Iftar) at a Jewish Temple. 
The evening included celebrating the incredible work of our Change-Makers who recently graduated from the NewGround Professional Fellowship. Muslim and Jewish guests connected over dinner and dialogue, NewGround style! 
The NewGround Iftar was featured in ABC7 Eyewitness News. 
Watch the clip here.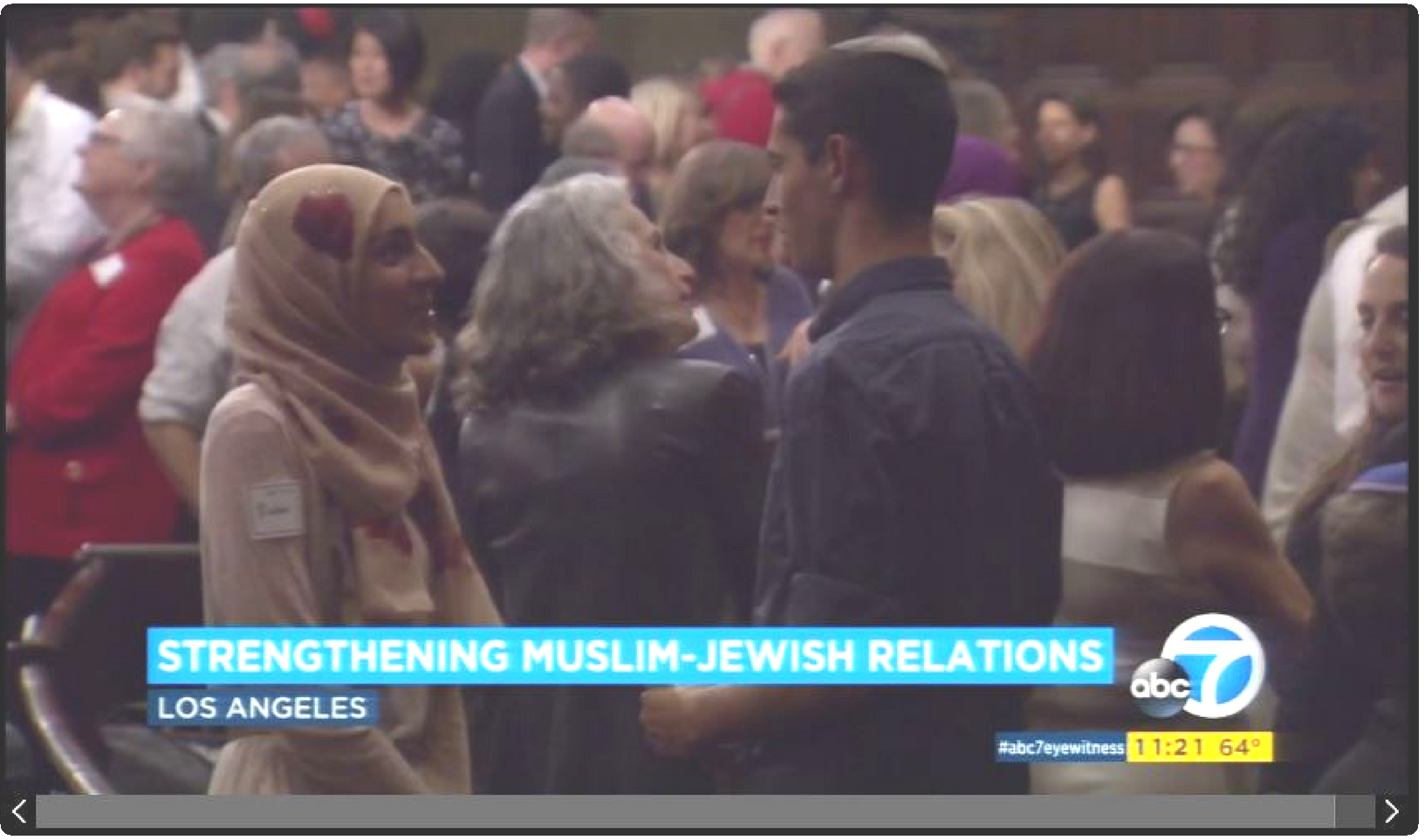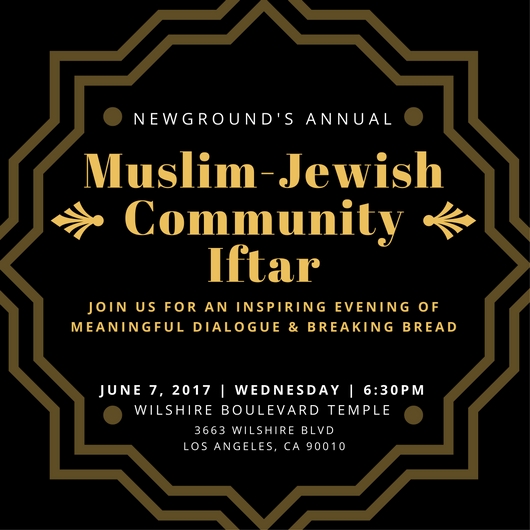 Each year, NewGround convenes the largest gathering of Muslims and Jews in Los Angeles to break fast (Iftar) at a Jewish Temple.
Join us for dinner and to celebrate the incredible work of our change-makers as we graduate the most recent cohort of professionals from our program.
You will get the opportunity to connect with Muslims, Jews and people from all backgrounds around Los Angeles.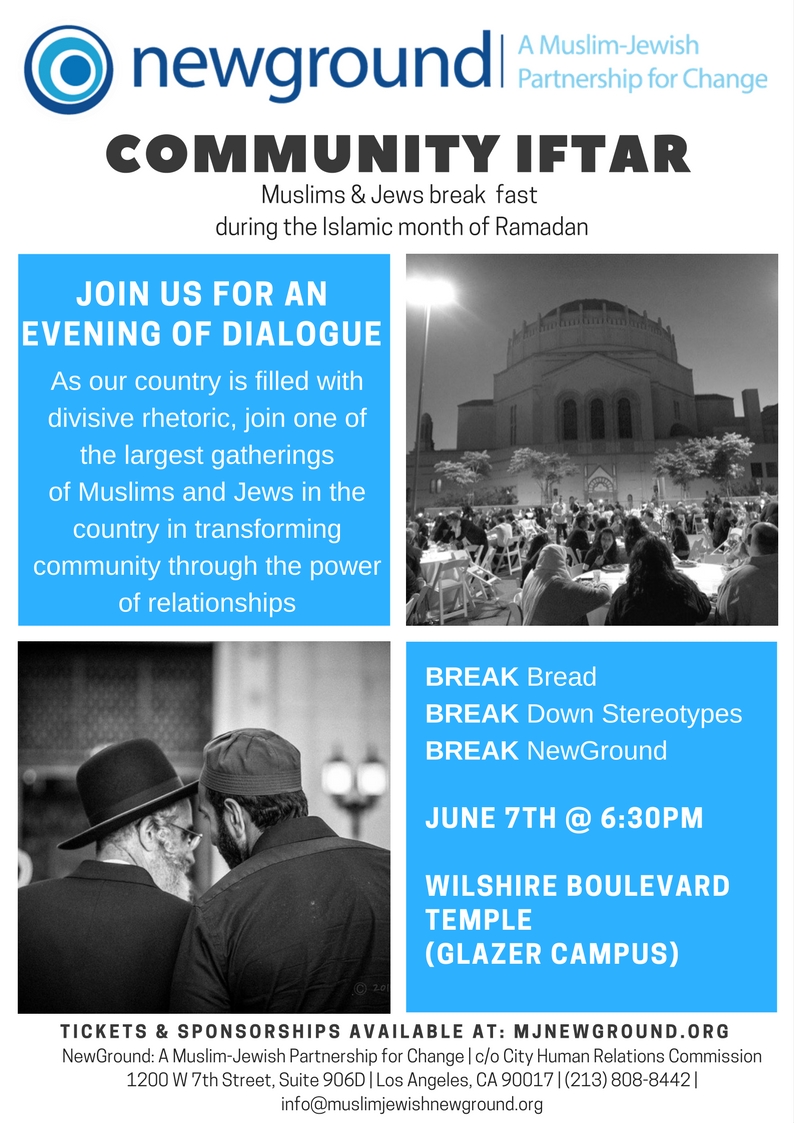 The 2017 Community Iftar will be held on June 7, 2017 at 6:30 pm at the Wilshire Boulevard Temple (Glazer Campus).
Save your spot for this year now — our Iftars are always sold out!
Buy your ticket and/or become a sponsor today by clicking HERE!
NewGround: A Muslim-Jewish Partnership for Change 
in partnership with the Jewish Women's Theatre cordially invite you to a new show:
More Courage
We all want more courage. This show explores stories of brave acts, small or large,
that change lives and inspire us all.  It also shares those moments when we just can't
seem to muster the courage to do the right thing.
Thursday,  May 11, 2016 at 7:30pm
at
IMAN Cultural Center
3376 Motor Ave
Los Angeles, CA 90034
Join us to hear important Muslim and Jewish stories of courage.

Rendezvous: Film Screening and Panel Discussion
Sponsored by HUC-JIR in partnership with reGeneration, NewGround, and Muslim Public Affairs Council.
Join us for a screening of the movie Rendezvous, followed by an interfaith panel on the power of narrative to build solidarity and solutions. Click here to RSVP.
Aziza Hasan, executive director of NewGround, will be part of the panel.
Movie description: When Rachel (Stana Katic), a Jewish-American doctor, and Jake (Raza Jaffrey), a Muslim-American U.S. State Department agent, join forces in a perilous quest to solve the mysterious death of Rachel's brother, a biblical archeologist, they stumble upon a conspiracy that could literally lead to Armageddon. Caught in the middle of a plot to hasten the end of mankind, Rachel and Jake must solve the murder, save the world, and discover for themselves that true treasures are often hiding in plain sight. Click here to watch the official theatrical trailer for The Rendezvous! **Suggested donation of $10 goes to reGeneration's efforts to improve early childhood education in crisis zones**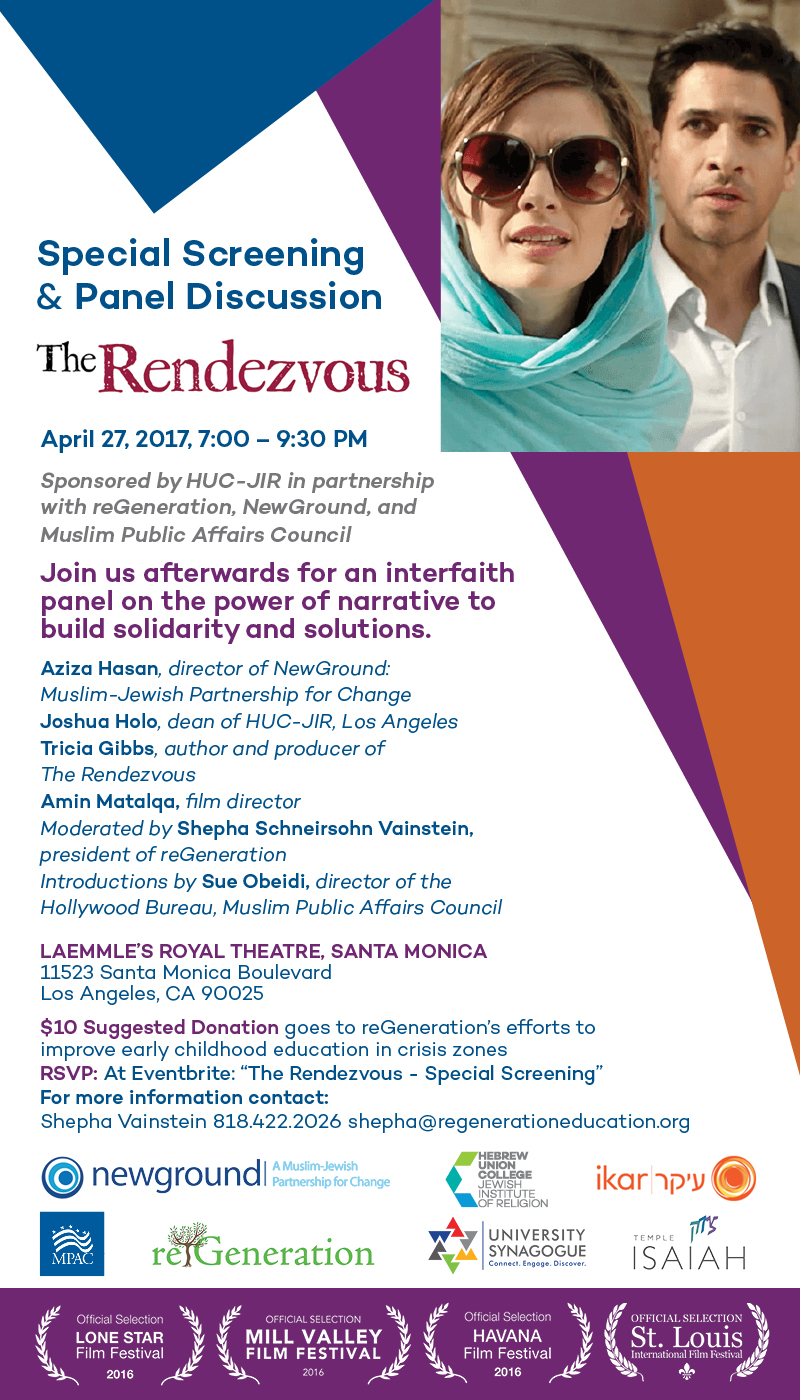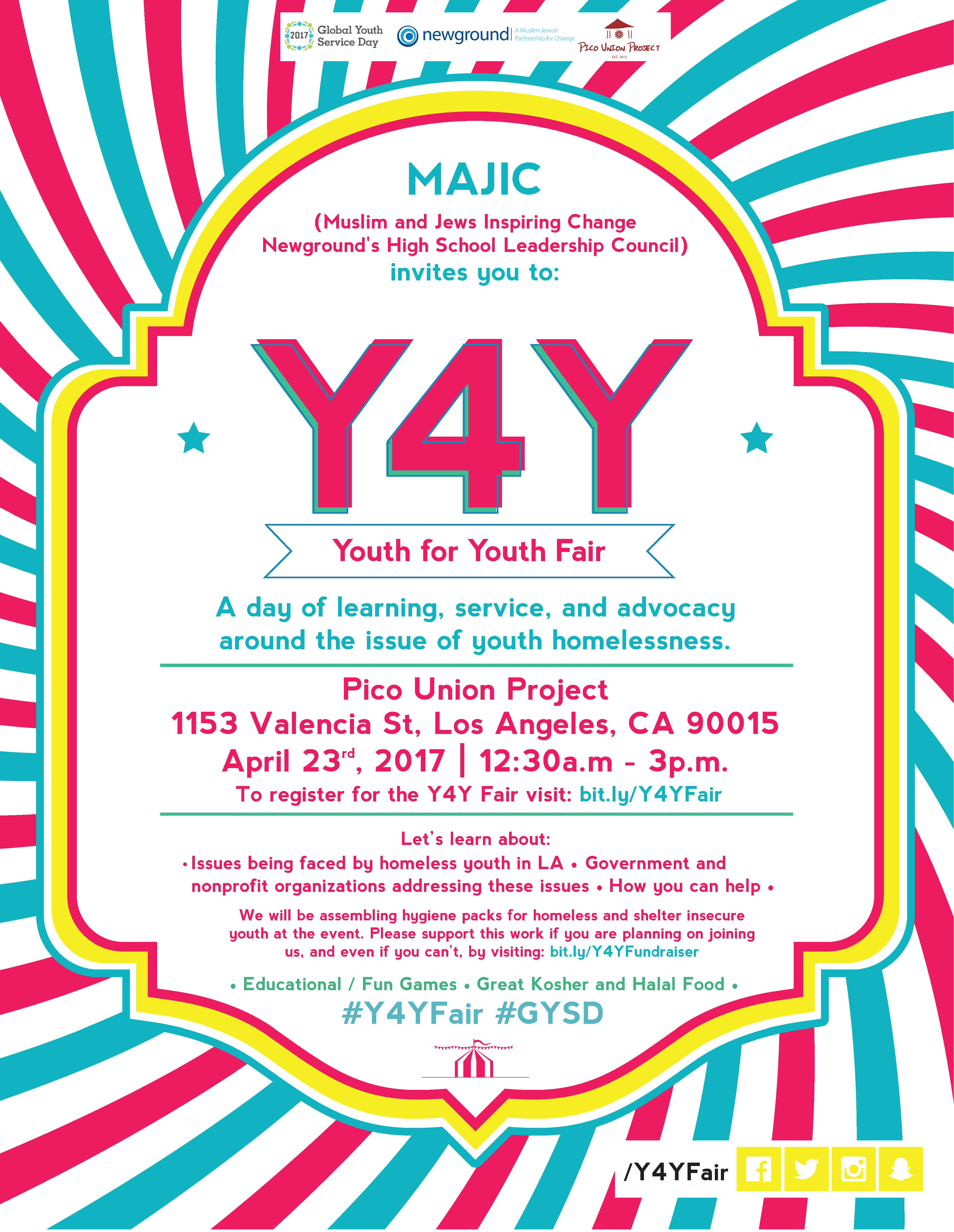 Did you know that according to the 2016 Homeless Count there are almost 1200 unaccompanied homeless youth in the LA Metro area who don't have a roof over their heads on any given night?
Did you know that in the 2014-15 school year, the LA County Office of Education counted 63,000 homeless students – a 17 percent increase from the previous school year?
We, the Muslim and Jewish youth in NewGround's MAJIC program, invite you to attend and support MAJIC's Y4Y Fair (Youth For Youth Fair) — a day of education, advocacy and service organized by youth for youth. Join us on April 23rd from 12:30 am to 3:00 pm at the Pico Union Project — to learn about issues facing homeless and shelter-insecure youth in the greater Los Angeles area. Whether you can join us or not, you can take part in this day by simply donating to create hygiene packs for homeless teens and provide gift cards so some of them can pick out their own clothing.
We hope you will lend a helping hand by supporting our fundraiser to provide some new clothing and much-needed survival supplies to homeless teens. Then join us on April 23rd to assemble and put personal touches on the packs. We'll learn more about issues facing homeless youth and learn ways you can make a difference.
MAJIC is "Muslims and Jews Inspiring Change" — the high school leadership council of NewGround: a Muslim-Jewish Partnership for Change. Every year we partner with Youth Service America on their Global Youth Service Day. This year, we decided to educate ourselves, and the people around us, about the urgent needs of homeless youth in Los Angeles. As Muslims and Jews, our traditions teach us that every young person has the right to dignity – and to be a part of a better future for all of us – no matter their background.
MAJIC will partner with Pico Union Project, a multi-cultural and faith center committed to the principle "love your neighbor as you want to be loved" and built on the site of one of LA's most historic synagogues, adjacent to Downtown LA.  The fair centers around opportunities to learn about and help with the crisis facing thousands of homeless kids in Los Angeles through hands-on activities and projects for kids and adults.  Kosher and halal food will be available.
Your donations will go to:
Hygiene packs with supplies like toothbrushes, toiletries, socks and more.
Gift cards so homeless youth can pick out their own clothing.
Financial support for organizations we have learned from who are directly addressing the challenges faced by homeless and shelter-insecure youth: Youth Policy Institute, Safe Place for Youth, School on Wheels and the Sanctuary of Hope.
A small percentage of our funds will be spent on supplies for the fair itself.
Please support the work, spread the word and join us on April 23rd for MAJIC's Y4Y Fair to learn more!!! Register here!
(Your donation is tax deductible through Community Partners – NewGround's 501c3 fiscal sponsor. Thank you for your support of this important work!)
NewGround change-makers stand up and speak out.

On June 14th, NewGround change-maker Jason Velazquez, a gay Muslim man from Florida, shared his reflections on the tragedy in Orlando and a moment of silence with Los Angeles Mayor Eric Garcetti at the beautiful interfaith iftar hosted by the City of Los Angeles Human Relations Commission.
NewGround fellows design projects to connect with and improve their communities.
Our recently graduated professional fellows have developed some amazing projects over the past 8 months. Take a look:
Interfaith Shabbat Dinner in Support for Refugees: Muslims and Jews gathered together to share an evening of prayer, food, and thought provoking discussion. Fellows bridged communities and began a thought-provoking and inspiring discussion about one of the many crises facing our world and learned to act as protectors for one another in times of need.
Interfaith Podcast: Fellows record and produce an interfaith podcast that showcases conversations about common lifestyle struggles that exist in both the Muslim and Jewish communities. Emotional barriers are broken down as they share their stories.
Meet Pray Love: Fellows created opportunities for people of different faiths to experience one another's traditions and prayer spaces through the simple act of visiting during a regularly scheduled service. Inspired by their own transformative experience of coming together as Muslims and Jews, the fellows foster familiarity and friendship, the seeds of which are already present but too often lack the conditions to nurture their growth.
MiND_Kit: This initiative provides necessary and innovative skills and resources to middle school children in South Central LA. Through community collaborations, computer hardware and programming tools are introduced to young children in hopes to empower the community. Fellows will develop a workshop curriculum at local universities and colleges to serve as an incentive for youth to attend the resource hubs as an alternative to potentially engaging in criminal activity.
Muslim and Jewish Kids for Change: The Silverlake Independent Jewish Community Center (SIJCC) and Islamic Center of Southern California (ICSC) bring their Sunday Schools together to learn about each other while giving back to the community. For their first meeting, the groups met at the Islamic Center for an interfaith exchange. The kids connected with one another as they learned about the many similarities between their religions and assembled hygiene kits and bagged lunches for the homeless. Get a beautiful and inspiring sense of the day here.