NewGround Presenting at Parliament of the World's Religions
A group of NewGround alumni will present at the Parliament of the World's Religions Conference to be held in Salt Lake City with over 10,000 people coming together from all over the world! .
What is the Parliament of the World's Religions? 
The Parliament is the oldest, the largest, and the most inclusive gathering of people of all faith and traditions. The first Parliament took place in 1893. Since then, this historic event has taken place in Chicago, USA; Cape Town, South Africa; Barcelona, Spain; Melbourne, Australia, and now in Salt Lake City, Utah. Its mission is to promote understanding, cooperation, and collaboration among religious communities. 
Click HERE
 for more about the Parliament.
In the 2015 Parliament, prominent world faith leaders are attending including, His Holiness the 14th Dalai Lama; Dr. Tariq Ramadan, Rabbi David Saperstein, Dr. Eboo Patel, Karen Armstrong, and Nobel Peace Laureates Mairead Mahuire. For a full list of all the major speakers, 
click 
HERE
. The Parliament is an amazing venue to share what we have learned at 
NewGround
 with other members of the interfaith movement from around the world!
What is the goal of presenting our workshop at the Parliament of the World's Religions?
Our intention and goal is to inspire the attendees to build relationships, and create new ground, by applying the NewGround model in their home countries and communities.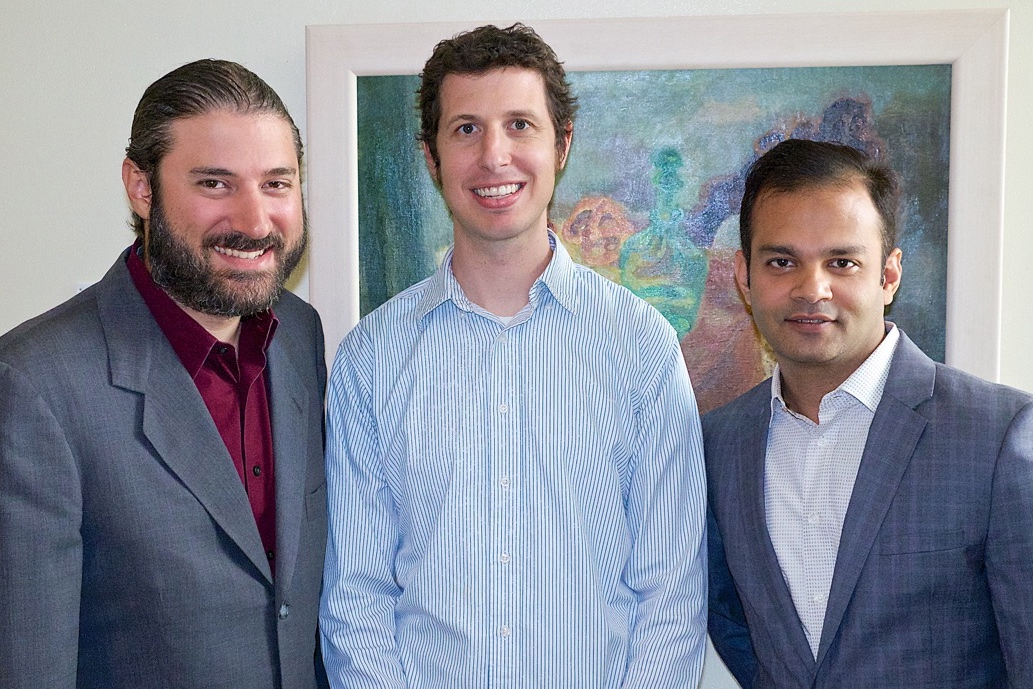 Change-makers, Faraz and Eliyahu, Represent NewGround at Adat Chaverim
"It was enriching to learn about the transformative experiences Eli and Faraz have had with NewGround. Their willingness to go beyond the normal "safe talk" of interfaith dialogue and navigate polarizing issues in a dignified way is truly inspiring. They taught us that understanding another's point of view requires deep and mutual respect. The work they are doing is greatly needed in our diverse and often contentious cultural climate." -Jonathan Friedmann, Adat Chaverim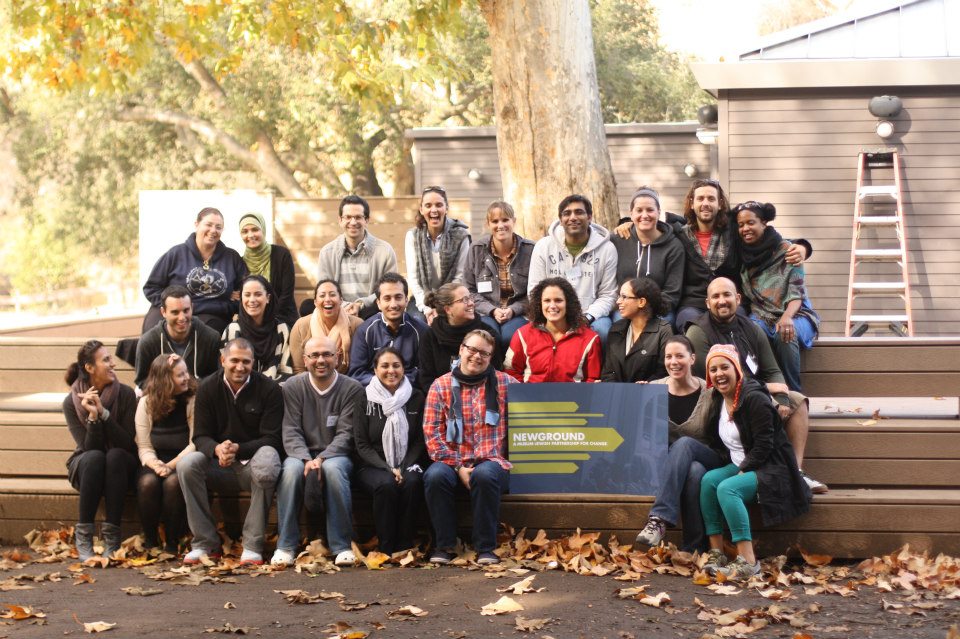 Listening and Achieving the Impossible Dream by Abigail Barash
Muslim and Jewish Young Adults Forge Community in Los Angeles
Can Jews and Muslims actually get along? For the average American, plagued by widespread misinformation and skewed biases from the media, this might seem nearly impossible. In light of the ubiquitous news of conflict in the Middle East, coexistence between these two faith traditions is often perceived as a lost cause. However, here in the Southern California a number of Jewish and Muslim communities are working in harmony towards peace and understanding.
One such group is made up of Jewish and Muslim young adults participating in a fellowship with NewGround. This particular NPO focuses on establishing a strong partnership between the Muslim and Jewish communities of the Los Angeles area. This past November, the 2012-2013 fellows had the opportunity to meet for the first time, myself included.
As a young Jewish woman, having recently moved to Claremont to pursue interfaith work, I was ready to put what I had learned thus far into action. About 25 Jews and Muslims, all in their 20s and 30s, were coming together to form a new cohort of change-agents for the world. Each of us with our own starting points, diverse cultural backgrounds, and preconceived notions about "the other" (conscious and subconscious), had agreed to set aside our differences for the time being to work towards cooperation.
There was a consensus in our respective communities that change needs to be prioritized. Perpetuated ignorance, a lack of yearning to know the real facts, and stereotypes are enabling factors which result in an unwillingness to accept "the other." People are often afraid of what is different or unknown. We thrive on being able to categorize groups or individuals. The minute we experience difficulty in labeling, we make judgments, often negative ones. For that reason, NewGround is committed to helping the Muslim and Jewish communities learn more about one another. The best way to start achieving a greater acceptance of "the other" is through the dissemination of accurate information. Through the fellowship, NewGround has recognized that we, the fellows, have the capacity to be our most effective educators.
In order to gain more insight into the religious other, it is imperative to study the art of communication. My communication skills have been enhanced through the Fellowship. The most difficult aspect for me is being an active listener. Naturally, people tend to interrupt others; signifying their own personal interest as opposed to truly wanting to hear what the other person has to say.
As fellows, we were encouraged to practice allowing our conversation partner to express him/herself fully, without interruption, maintaining focused eye contact, and providing genuine interest. After the fellow has finished what they need to say, it is important to repeat back to him/her what we believe we have heard. In reflecting the message back to the speaker, this indicates that what they have communicated has been received and solidifies the importance of their message. The purpose of this skill-building activity is to cultivate active listening into our daily lives. Once this becomes habitual, our day-to-day conversations become healthier, within our own communities and beyond.
With the foundation of effective communication, the fellows have been successful in teaching one another about Islam and Judaism. We tend to focus on what our faiths share, our similarities. However, we make certain not to overlook the important distinctions which make our religious traditions quite unique. Through our conversations, we are able to destroy common misconceptions that desperately need clarification. To that end, we strive to become strong advocates of fighting against Islamophobia and anti-Semitism. By the end of the fellowship, it is my hope that we can take the skills and information learned through NewGround to provide our respective communities with the tools they will need in order to become experts in interreligious bridge-building.
I am extremely blessed to be a part of this cohort of amazing Jews and Muslims. We are committed, brave, forthright, energized, and passionate about working for the betterment of Jewish-Muslim relations. We understand there is an unprecedented need and we know there is still so much work to be done. When asked what their experiences have been like thus far, some of the fellows have responded with the following:
"NewGround has been mostly an experience of a community of people with much in common, including: learning, fun, and friends, plus the added feeling of contributing in a small way to the healing of the world." –Seth Weiner
"This fellowship has been a mentally rewarding and uplifting experience; and I am proud to say that I have made some new friends for life!" –Rumaisa Rahman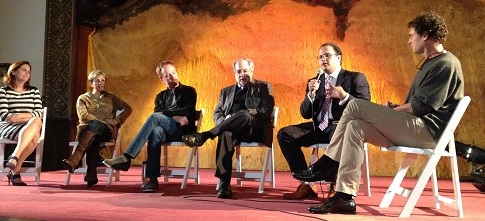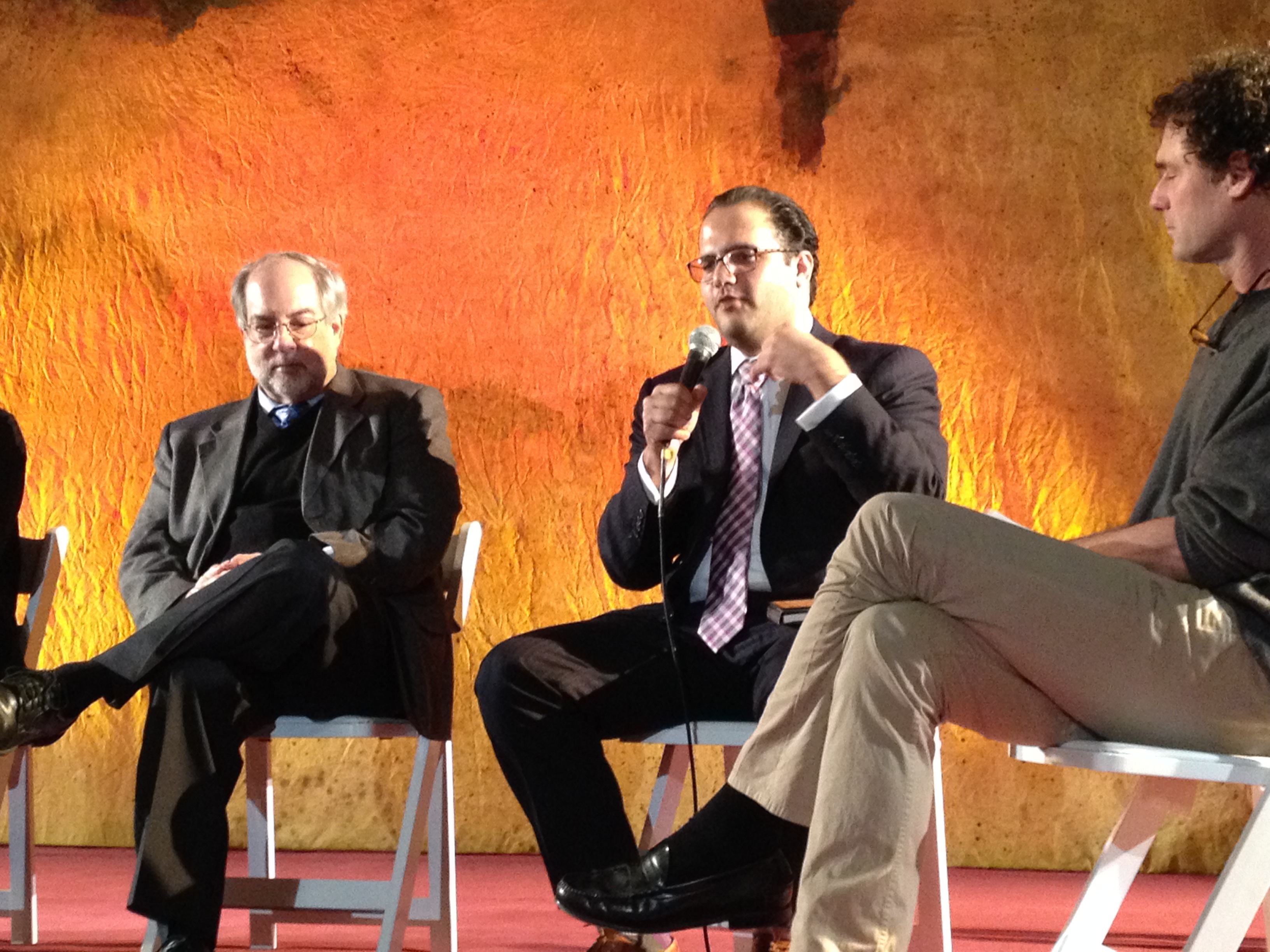 NewGround Change-makers at Wrestling Jerusalem: NewGround Facilitator, Ramin Nematollahi, Speaks on a Panel at the Pico Union Project:
Wrestling Jerusalem is a dynamic one-man play tackling the very complex discussion on the Israeli and Palestinian conflict through the eyes of numerous characters created by Aaron Davidman. The play exemplified the power and sanctity of listening. Listening to different ideas, different views, and different people, all seemingly looking for a solution, perhaps being the solution.
I had the honor and privilege of serving on a discussion panel to reflect on the play. I spoke about the correlation between NewGround'smission of transforming communities by bringing together Jewish and Muslim change makers and engaging in intentional and active listening in an effort to support a process of collaboration.
I also spoke about the overall complexity of the issue and the challenging but necessary task to steer away from polarizing detractors so that the gates to communication do not collapse
Do you have a Change-maker story you would like to share with us?

Remembering and Honoring Our Change-maker, Dr. Maher Hathout:
Aziza Hasan Appears on Straight Talk Podcast to Talk about Resolving Conflict
"Don't lose yourself to anger. The best you will do is succumb to the behavior of the person who made you angry."
–Dr. Maher Hathout
Listen to NewGround Executive Director Aziza Hasan speak with the late Dr. Maher Hathout in the first of a 2-part series on "Practical Tips for Resolving Conflict." Enjoy these precious gems of wisdom on how to transform conflict in our lives.
Board Member Rabbi Sarah Bassin reflects on Dr. Hathout in the Jewish Journal
NewGround's former Executive Director, Rabbi Sarah Bassin, publishes her reflections on the passing of Dr. Hathout in a moving op-ed in the Jewish Journal, titled, "I Miss His Voice."
In it, she translates the significance of his passing into the Jewish community context: "His passing would be like the death of our early Reformers – Isaac Mayer Wise and David Einhorn. These giants of Reform Judaism defined what it meant to be Jewish and American simultaneously without apology or compromise. That is who Dr. Hathout was for so many of my Muslim friends who mourn him."
Full blog post visible at patheos.com
The recent tragedy at the Jewish Community Center in Kansas is a reminder that more than 3,000 years after the Jewish people were liberated from the oppression of pharaoh, anti-Jewish hatred is still a serious issue in America. This time the face of terror was one white Christian man with ties to the most prominent terrorist organization in America, the KKK. This man was not immediately identified as a "terrorist" because of his faith and skin color. Needless to say if the perpetrator was Ali the headlines would be very different. We'd see pundits and commentators pontificating the finer points of Islam and violent extremism. We would expect generalizations and disparaging remarks that perpetuate a fear and distrust against Muslims by self-proclaimed "experts".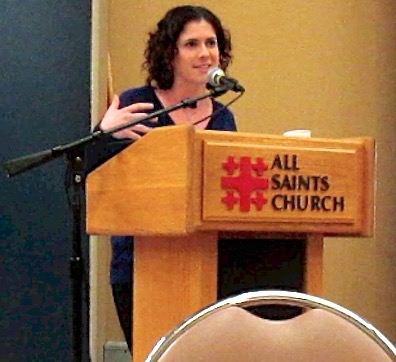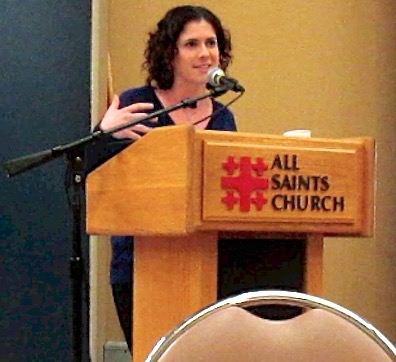 Board Member Edina & Alumna Lia Share NewGround Stories:
On January 11, 2015, NewGround had the pleasure of presenting at All Saints Episcopal Church for an Interfaith Study Group, which was founded in 2007 as a joint effort by All Saints, the Islamic Center of Southern California, and the Pasadena Jewish Temple and Center. The evening eulogized the two great progressive religious leaders and longtime allies, Rabbi Leonard Beerman of the Leo Baeck Temple and Dr. Maher Hathout, founder of the MPAC.
NewGround's co-founder and board member, Edina Lekov ic, and graduate ofNewGround's fellowship, Lia Mandelbaum, spoke to NewGround's methodology and experience with Muslim-Jewish relations in Los Angeles. Following the event, attendee Navjot Sekhon said that learning "about NewGround and hearing Lia's story" was "a powerful example of individuals from different faiths coming together and igniting relationships filled with companions and not enemies. NewGround is leading the way in helping our future generations to keep moving forward towards a more peaceful world."

Alumna Sarah Fort Sholklapper Leads Intentional Listening Exercise at Yeshiva in Israel
I led an intentional listening exercise for my community at an traditional, egalitarian yeshiva in Jerusalem. I am rabbinical student here for a year-long program of intense learning.
We wanted to enhance the communal aspect of and build safe space here at the Yeshiva. Rabbinical students from around the world and of different streams of Judaism attend the Yeshiva, as well as individuals who want to engage in rigorous text study for themselves. Building community is a priority and a challenge here, as we have so many future leaders coming from such vastly different backgrounds.
As I know from my experiences as a NewGround fellow, only when people are able to truly listen to each other–and know that they are truly being listened to–can meaningful community and dialogue develop. Responses to the exercise were overwhelmingly positive. Many of the students had never learned active/intentional listening, and spoke of how powerful an experience it was. Often it was much more difficult than they expected, and they found it hard though rewarding to stick to the script. One person said that they were surprised that, when they kept with the structure of intentional listening, the conversation grew to have more depth and complexity than they thought was possible. Another said that they realized that the simply act of saying, "I am ready to talk, are you ready to listen" made them realize that they are much too passive in engaging in the lives of those around them. Many people came up to me afterward saying what a great activity it was, and I am so grateful for my time with NewGround that I learned these skills that enable me to better my community no matter where I am.
One part of the NewGround process that stood out for me was being able to talk about Islam the way I understood it, how I practiced it and without having to speak and be held accountable for a billion people who also share my faith. Just being heard in that space was liberating for me. When I read my friend Tariq Jalil's new book "Islam Plain and Simple" I felt him channeling that liberated spirit in discussing Islam, I felt his empowerment and connected to his desire to speak in a straightforward manner about Islam.
In NewGround, we have the opportunity to build relationships by building on a web of interactions. We start with the preliminaries and move into more sensitive areas of getting to know other fellows, but all of this happens because we create a safe space and have some amazing facilitators leading us through this difficult process. Not everyone has that opportunity to be part of a process like NewGround, but it should not be an obstacle to people reaching out to interact with American Muslims.
In an Altmuslimah interview, Jalil said that his desire in writing the book was to "present the religion of Islam purely according to its teachings, not on the basis of how some Muslims choose to practice it." Obviously this is a hard thing to pull off, because in the end, even what Jalil presents about Islam is his interpretation of the religion. But for readers, it's a unique opportunity to read a Muslim write about his understanding of Islam without an academic or proselytizing feel to it.
He speaks with a unique voice because he was raised in an mid-western multi-faith extended family of Conservative Christians and with a traditional Indian Muslim father; all of which shaped his understanding of Islam and his identity as an American Muslim. In a very American way the book is an opportunity for him to amplify his voice above the static that is out there about American Muslims. Readers will appreciate that Jalil doesn't hesitate to discuss topics that are heated. Instead he methodically presents his understanding of things as varied as women, terrorism and Quranic interpretation.
The book provides a foundation and leaves it to the reader to seek out more about Islam and Muslims. One constricting aspect of NewGround was that there were so many Muslim perspectives, and each deserved equal space and ample time, so it was hard to keep sharing without shutting someone else's voice. This provided an opportunity to practice an important tool we learned, to step back and practice the sacred art of listening. Jalil was not constricted by a NewGround construct and therefore you can choose to read through the short book in one sitting or take in small portions, digest them and go back to the book at your pleasure.
Having relationships with people is the surest way to dispel bigotry and prejudice, and Jalil's book is a great way to begin understanding Islam so you can have meaningful interactions with Muslims. While nothing can replace the one-on-one relationships that NewGround fosters, Jalil's book is a good starting point for someone who would like some background information from a Muslim's perspective before engaging in a one-on-one communication.
My friend and Hollywood producer Tariq Jalil's book titled "Islam Plain and Simple," is scheduled for release on Amazon later this month. He was gracious enough to forward me advanced digital copy of the book to read. Check out his piece in AltMuslimah and read more about the critical acclaim the book has received here.