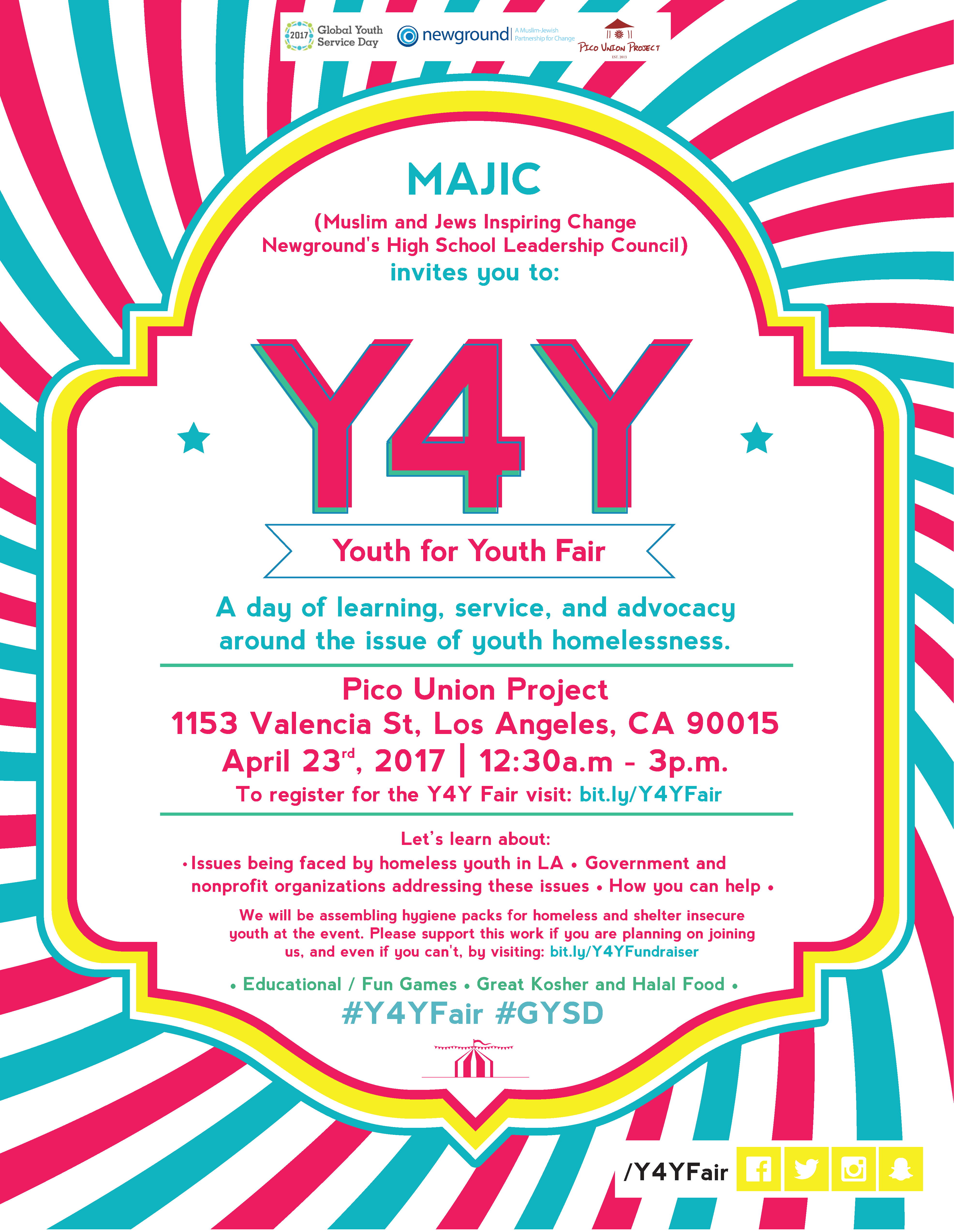 Did you know that according to the 2016 Homeless Count there are almost 1200 unaccompanied homeless youth in the LA Metro area who don't have a roof over their heads on any given night?
Did you know that in the 2014-15 school year, the LA County Office of Education counted 63,000 homeless students – a 17 percent increase from the previous school year?
We, the Muslim and Jewish youth in NewGround's MAJIC program, invite you to attend and support MAJIC's Y4Y Fair (Youth For Youth Fair) — a day of education, advocacy and service organized by youth for youth. Join us on April 23rd from 12:30 am to 3:00 pm at the Pico Union Project — to learn about issues facing homeless and shelter-insecure youth in the greater Los Angeles area. Whether you can join us or not, you can take part in this day by simply donating to create hygiene packs for homeless teens and provide gift cards so some of them can pick out their own clothing.
We hope you will lend a helping hand by supporting our fundraiser to provide some new clothing and much-needed survival supplies to homeless teens. Then join us on April 23rd to assemble and put personal touches on the packs. We'll learn more about issues facing homeless youth and learn ways you can make a difference.
MAJIC is "Muslims and Jews Inspiring Change" — the high school leadership council of NewGround: a Muslim-Jewish Partnership for Change. Every year we partner with Youth Service America on their Global Youth Service Day. This year, we decided to educate ourselves, and the people around us, about the urgent needs of homeless youth in Los Angeles. As Muslims and Jews, our traditions teach us that every young person has the right to dignity – and to be a part of a better future for all of us – no matter their background.
MAJIC will partner with Pico Union Project, a multi-cultural and faith center committed to the principle "love your neighbor as you want to be loved" and built on the site of one of LA's most historic synagogues, adjacent to Downtown LA.  The fair centers around opportunities to learn about and help with the crisis facing thousands of homeless kids in Los Angeles through hands-on activities and projects for kids and adults.  Kosher and halal food will be available.
Your donations will go to:
Hygiene packs with supplies like toothbrushes, toiletries, socks and more.
Gift cards so homeless youth can pick out their own clothing.
Financial support for organizations we have learned from who are directly addressing the challenges faced by homeless and shelter-insecure youth: Youth Policy Institute, Safe Place for Youth, School on Wheels and the Sanctuary of Hope.
A small percentage of our funds will be spent on supplies for the fair itself.
Please support the work, spread the word and join us on April 23rd for MAJIC's Y4Y Fair to learn more!!! Register here!
(Your donation is tax deductible through Community Partners – NewGround's 501c3 fiscal sponsor. Thank you for your support of this important work!)