MUSLIMS AND JEWS INSPIRING CHANGE (MAJIC)
A High School Leadership Council
NewGround is proud to convene MAJIC (Muslims and Jews Inspiring Change): a high school leadership council. This leadership training program offers a select group of Muslim and Jewish high school students the opportunity to build communication skills and conflict literacy, create lasting relationships across faith boundaries and have impact the climate of community relations in Los Angeles and beyond.
An Advisory Board of Muslim and Jewish communal professionals have taken the lead role in working with NewGround to help shape this opportunity for teen leaders in Los Angeles. The City of Los Angeles Human Relations Commission is proud to support the project.
Each year, a diverse cohort of Muslim and Jewish high school students is selected to participate an intensive academic year experience including one full-weekend retreat, several Sunday retreats and several half-day Sunday sessions. Students learn from a variety of communal leaders and from one another about the Jewish and Muslim worlds as well as issues impacting both communities. Students complete a communal project synthesizing what they have learned and experienced together. Upon completion of the fellowship, council members receive a certificate from the City of Los Angeles in appreciation of their willingness to learn together, engage in difficult conversations and contribute to improving intergroup relations in Los Angeles.
We are interested in applicants with demonstrated leadership skills who will also grow through our program.  We accept applications from and nominations for students entering 10th-12th grades each year. Students of high school age who have started Community College are also encouraged to apply.
Thank you for your interest in our program!
In its first year, NewGround's MAJIC program was Named:
"California's 2013 Faith-Based Organization of the Year"
In its first year, NewGround's MAJIC" received a prestigious honor from the Office of the Governor of California. This program that was just an idea no more than eighteen months prior was named "California's 2013 Faith-based Organization of the Year" for cultivating a commitment to service an volunteerism in the greater Los Angeles area. A video of the ceremony can be viewed here.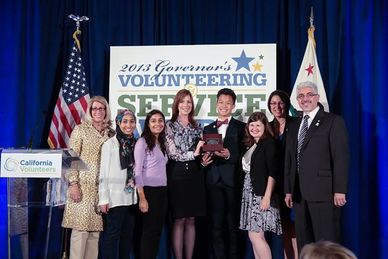 A "Fund Day" for Healthy Communities
MAJIC was again selected as a Global Youth Service Day Lead Agency by Youth Service America. The student leaders of MAJIC engaged hundreds of their peers in service projects to build a healthier Los Angeles. The MAJIC change-makers visited schools, mosques, synagogues, and religious schools to educate the community about their work with NewGround. They implemented drives to support local organizations to help make Los Angeles a healthier community. It all culminated with a fun day for teens of food trucks, dodge ball and other exciting activities to help raise proceeds for the organizations chosen by students.
Want to know what's possible? KABC7 featured the pilot cohort of MAJIC in action with their Carnival Against Hunger.