Check out board members Edina Lekovic and Brie Loskota in a publication released today by The Aspen Institute on how NewGround occupies an important role in this incredibly important conversation on pluralism.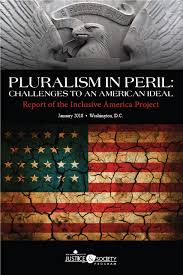 Pluralism in Peril, a new report by the Inclusive America Project, addresses how our nation can maintain its historical commitment to embracing people of all faith backgrounds against a backdrop of polarization. Religious pluralism may be under threat, but effective tools and strategies are available to defenders of this core American value. Pluralism in Peril offers guidance to community and interfaith leaders, youth-serving organizations, philanthropists, and state and local officials on specific action steps to build a more resilient, trust-based environment that fully incorporates American religious minorities. Essays explore ways to increase basic religious literacy, promote allyship and community resilience, and build bridges between youth of different faith traditions. Pluralism in Peril's authors come from across the political spectrum and include former government officials, religious leaders, interfaith activists, and scholars. While they do not agree on everything, they all insist that America's religious diversity keeps us strong and that an attack on one faith is an attack on all faiths.
Executive Director, Aziza Hasan, presented at Temple Emanuel Beverly Hills. Speaking on NewGround's Two Faiths One Prayer video, Aziza talked about the power of Muslims and Jews standing side by side in authentic prayer.
Watch Two Faiths One Prayer here!
NewGround Executive Director, Aziza Hasan attended the 2017 Hilton Humanitarian Symposium on October 11. In a session with Deepak Chopra, he discussed transcending divide by sharing stories and connecting to values like love, compassion & healing.
NewGround's Spotlight Storytelling event on November 14th does exactly that! Don't miss the opportunity to hear from Muslim and Jewish storytellers, connecting to values that matter to us all. Buy your tickets here.
#IGotURBack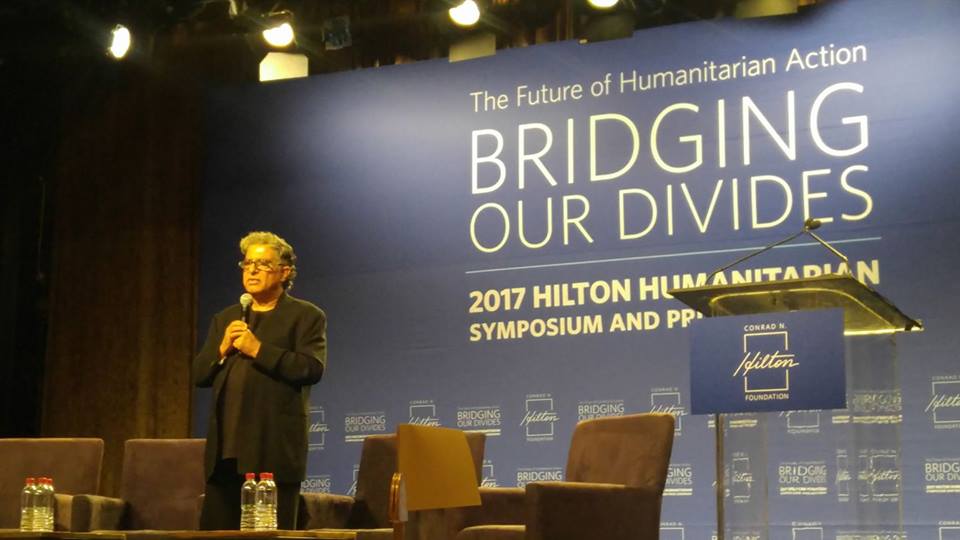 The 2016-2017 MAJIC season culminated in the Y4Y Fair, or Youth for Youth, an event focused on educating the community about youth homeless and doing direct service to help homeless youth. The MAJICians wanted to show that two communities, Muslim and Jewish, could come together to make a positive change in the world.
Watch the video!
This is America – a place where young people come together across cultural and religious difference to create change and strengthen our civic fabric.NewGround's High School Leadership Council – MAJIC (Muslims and Jews Inspiring Change) invited the community to a day of learning, service and advocacy around the issues of Youth Homelessness for Global Youth Service Day. Together with Muslims, Jews and others from across Los Angeles, the youth learned from government organizations, non-profit organizations and student leaders about the issues facing homeless youth in our city, and actions we can take to support our young people. MAJIC students prepared and distributed over 300 hygiene packs and 50 $25 gift cards to homeless youth in Los Angeles! #IGotURBack #4thofJuly #Y4YFair #GYSD

Posted by NewGround: A Muslim-Jewish Partnership for Change on Monday, July 3, 2017
NewGround tackles homelessness, joining Mayor Eric Garcetti and more than 100 religious leaders from across LA, in launching Days of Compassion – an interfaith effort to rally faith community support in the fight to end chronic homelessness.
The faith leaders joined the Mayor in signing a pledge to "open our doors without fear, our resources without restraint, our minds without reservation, and our hearts without judgment." Over the next four months, they will put a renewed focus on the values of compassion, and lead their congregations in efforts to support their homeless neighbors — from hosting mobile showers in their parking lots to organizing tours of permanent supportive housing and offering day-storage for unsheltered Angelenos' belongings, so they can look for work and housing.
Read more here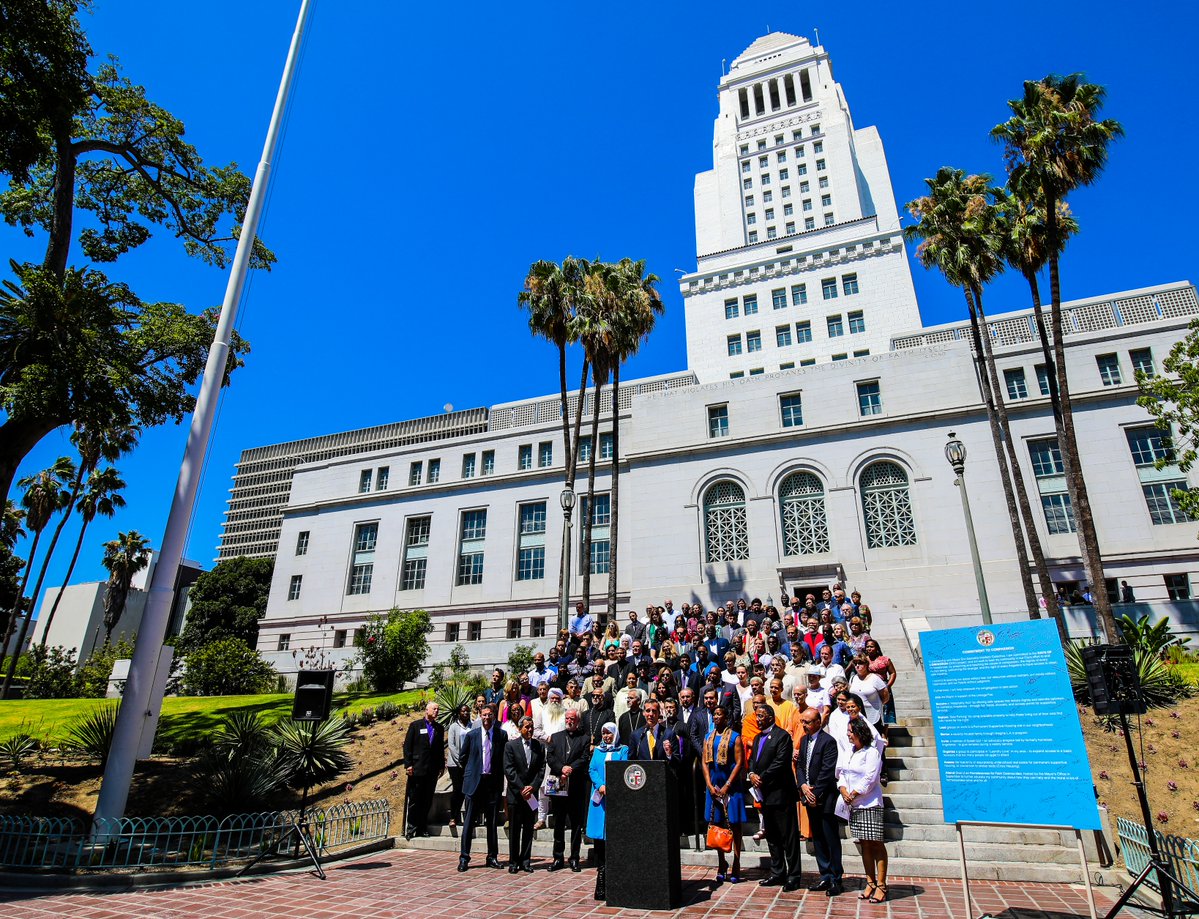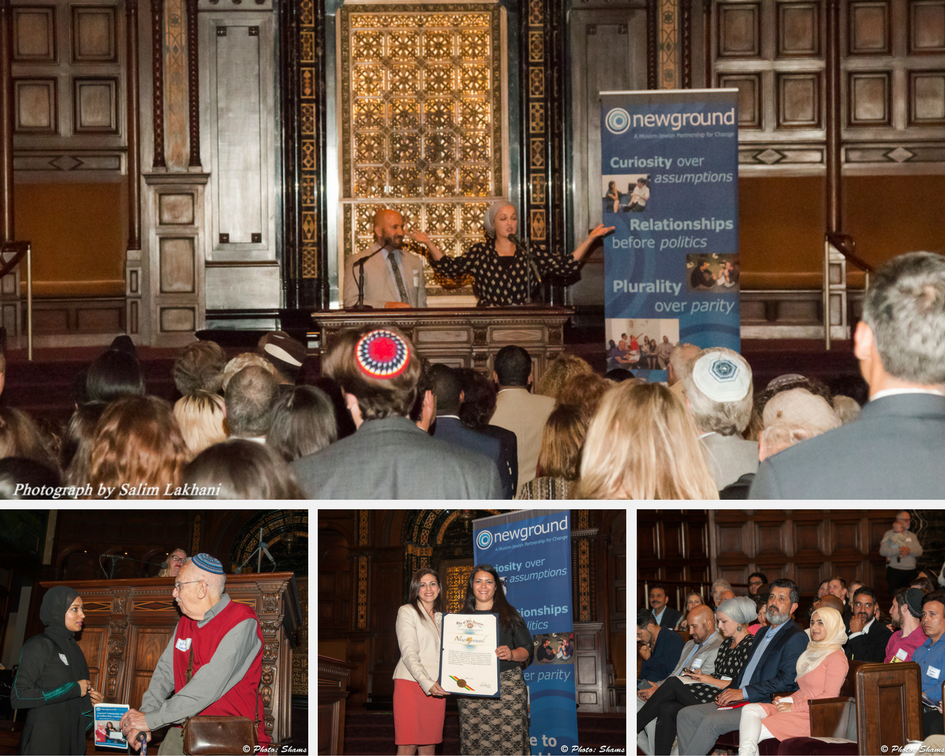 Over 400 Muslims and Jews attended NewGround's Community Iftar! Each year, NewGround convenes the largest gathering of Muslims and Jews in Los Angeles to break fast (Iftar) at a Jewish Temple. 
The evening included celebrating the incredible work of our Change-Makers who recently graduated from the NewGround Professional Fellowship. Muslim and Jewish guests connected over dinner and dialogue, NewGround style! 
The NewGround Iftar was featured in ABC7 Eyewitness News. 
Watch the clip here.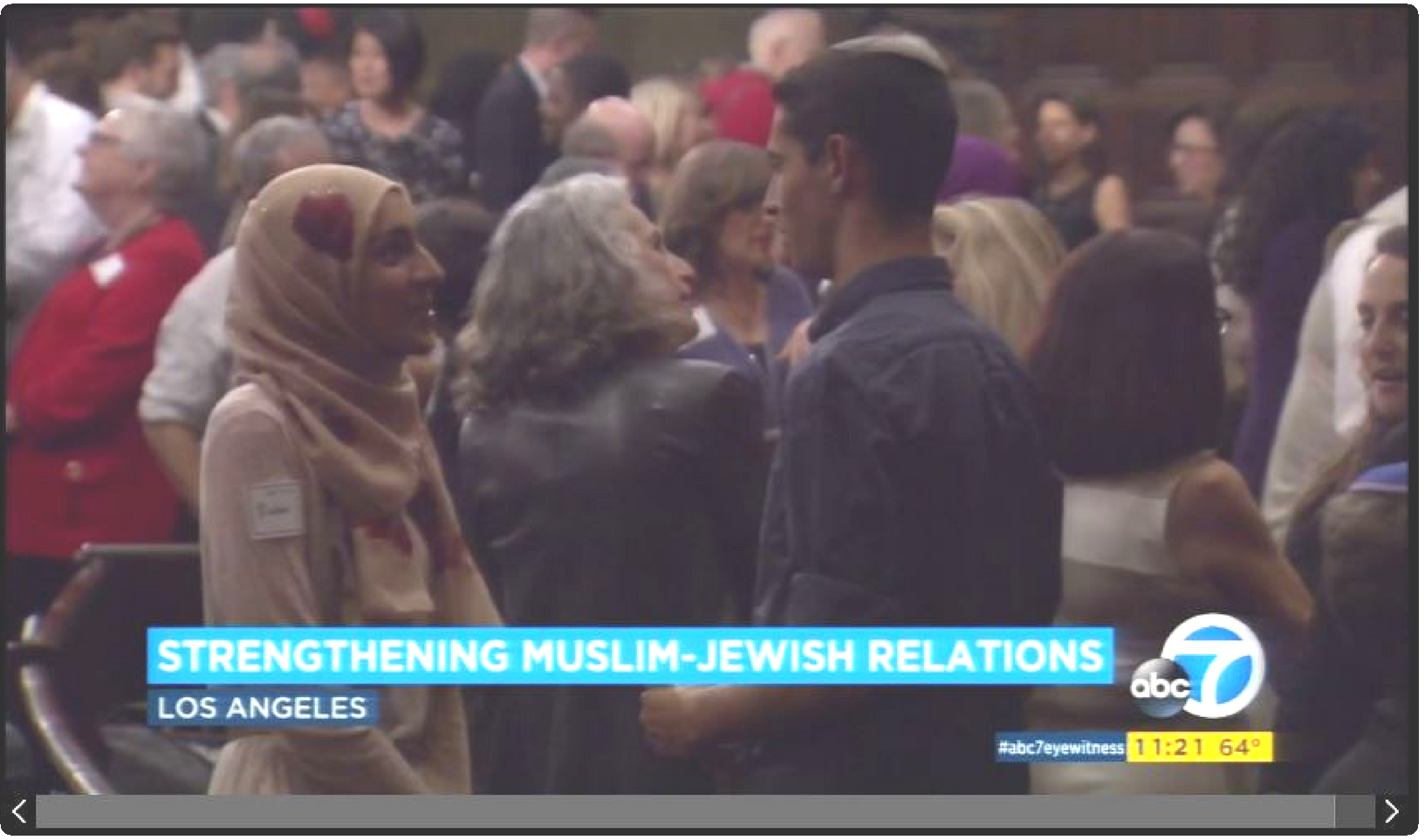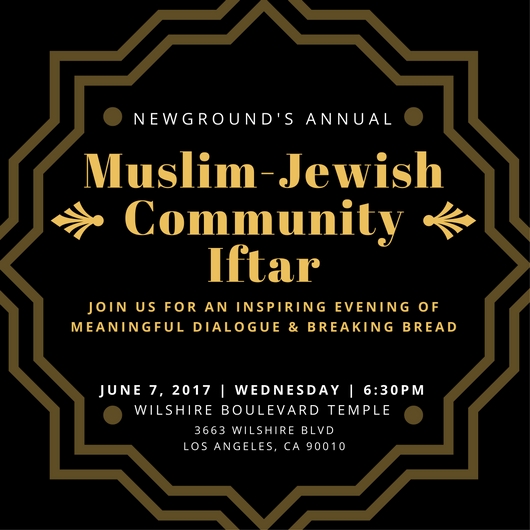 Each year, NewGround convenes the largest gathering of Muslims and Jews in Los Angeles to break fast (Iftar) at a Jewish Temple.
Join us for dinner and to celebrate the incredible work of our change-makers as we graduate the most recent cohort of professionals from our program.
You will get the opportunity to connect with Muslims, Jews and people from all backgrounds around Los Angeles.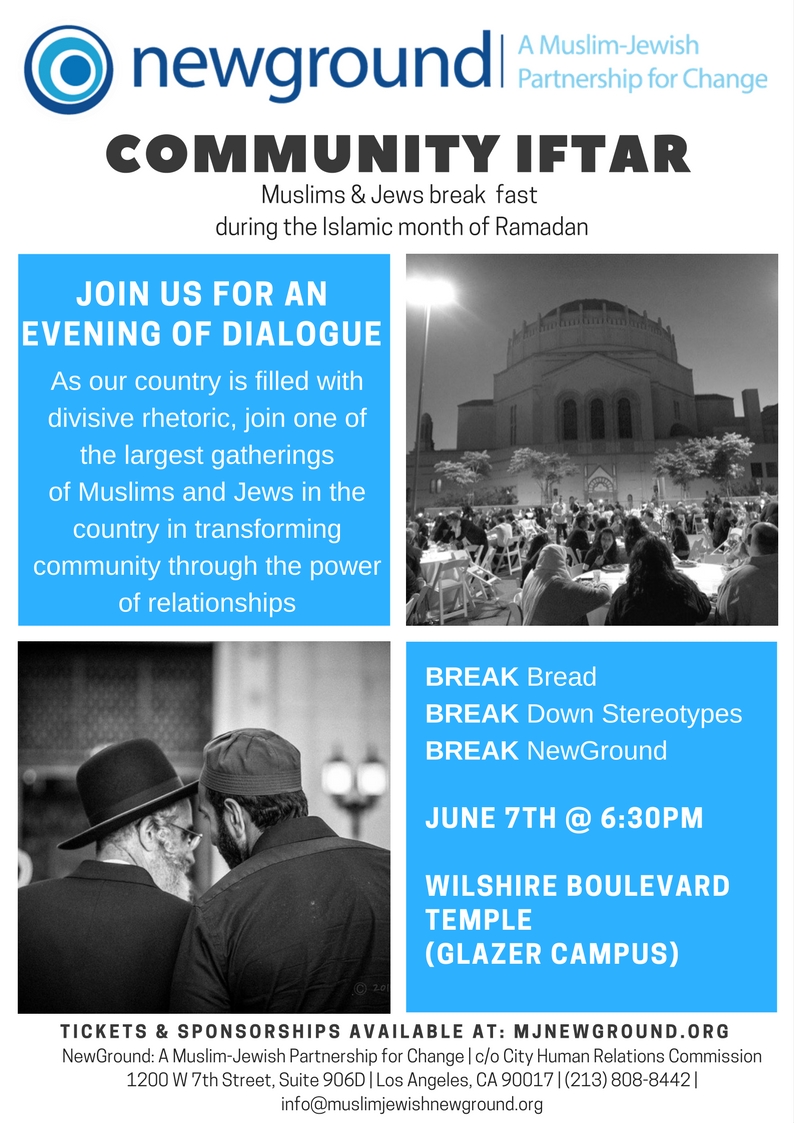 The 2017 Community Iftar will be held on June 7, 2017 at 6:30 pm at the Wilshire Boulevard Temple (Glazer Campus).
Save your spot for this year now — our Iftars are always sold out!
Buy your ticket and/or become a sponsor today by clicking HERE!
NewGround: A Muslim-Jewish Partnership for Change 
in partnership with the Jewish Women's Theatre cordially invite you to a new show:
More Courage
We all want more courage. This show explores stories of brave acts, small or large,
that change lives and inspire us all.  It also shares those moments when we just can't
seem to muster the courage to do the right thing.
Thursday,  May 11, 2016 at 7:30pm
at
IMAN Cultural Center
3376 Motor Ave
Los Angeles, CA 90034
Join us to hear important Muslim and Jewish stories of courage.

Rendezvous: Film Screening and Panel Discussion
Sponsored by HUC-JIR in partnership with reGeneration, NewGround, and Muslim Public Affairs Council.
Join us for a screening of the movie Rendezvous, followed by an interfaith panel on the power of narrative to build solidarity and solutions. Click here to RSVP.
Aziza Hasan, executive director of NewGround, will be part of the panel.
Movie description: When Rachel (Stana Katic), a Jewish-American doctor, and Jake (Raza Jaffrey), a Muslim-American U.S. State Department agent, join forces in a perilous quest to solve the mysterious death of Rachel's brother, a biblical archeologist, they stumble upon a conspiracy that could literally lead to Armageddon. Caught in the middle of a plot to hasten the end of mankind, Rachel and Jake must solve the murder, save the world, and discover for themselves that true treasures are often hiding in plain sight. Click here to watch the official theatrical trailer for The Rendezvous! **Suggested donation of $10 goes to reGeneration's efforts to improve early childhood education in crisis zones**