"A priest, a rabbi, and an imam get together…"
With over 1,000,000+ views, check out the latest BuzzFeed video featuring NewGround Board member Rabbi Susan Goldberg; MAJIC Advisory Board member, Jihad Turk; and Reverend Francisco Garcia. The religious leaders got together on camera to discuss their religious stances on tough, contemporary issues. Throughout the video, Rabbi Susan Goldberg emphasizes the importance of listening and practicing empathy and compassion with one another.
A NewGround Vision for Los Angeles
On New Year's Eve, the California Community Foundation as part of its Centennial Celebration and Legacy Campaign posted this #LAtogether short video sharing NewGround Executive Director Aziza Hasan's vision for Los Angeles: "A place where we have the COURAGE to tell our stories and CONNECT with each other."



TEDx

& PBS

NewGroud Executive Director Aziza Hasan's TEDx Talk Now Available Online HERE!
Watch how Aziza shares transformative stories that illustrate the power of "Unlocking the Courage of Curiosity" and leaves the audience teary-eyed with a standing ovation to follow.
We encourage you to share this along with our short video #BreakNewGround to amplify our NewGround value and message of emphasizing "curiosity over assumptions."
PBS: Check out footage at 8:07 from NewGround's annual community iftar at Wilshire Boulevard Temple on PBS! Watch HERE!
Have you seen it yet? Check out our BuzzFeed video HERE.
Find our NewGround change-makers Saaliha Khan, staff member, Marwa Abdelghani,  MAJIC alum and community outreach fellow at MPAC, and Tom Earl, spoken word poet, community educator & MAJIC speaker.
The video has over 15 million views and counting!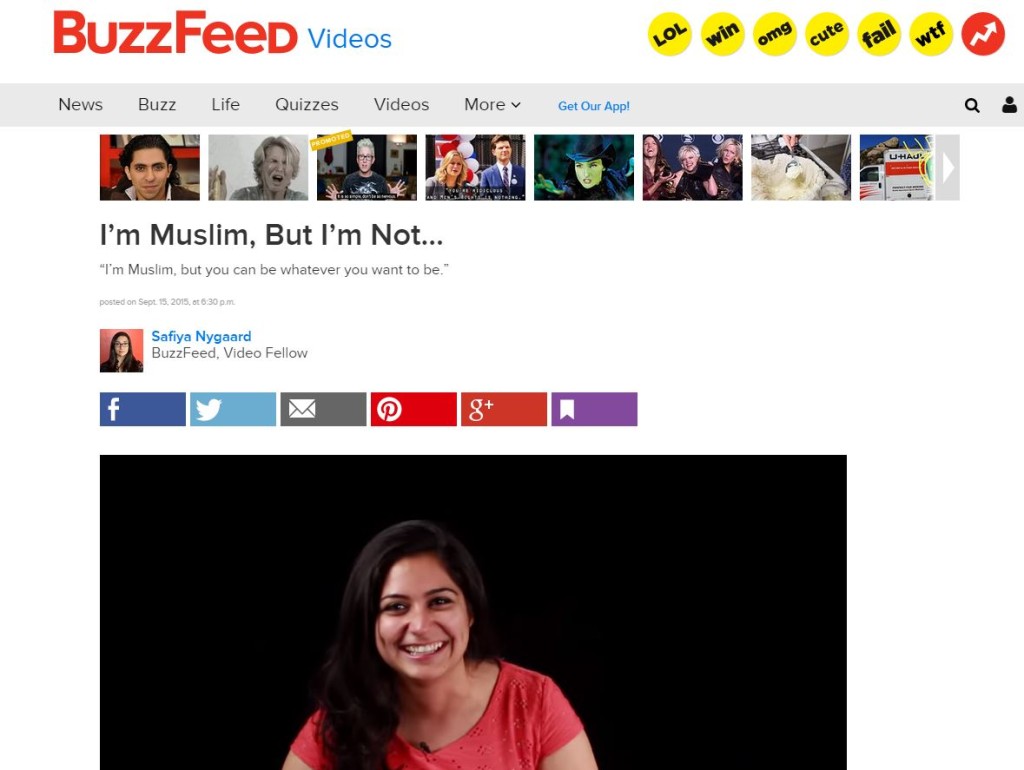 Harvard's Diana Eck Recognizes NewGround
World-renowned scholar, Diana L. Eck from Harvard University Pluralism Project recognizesNewGround in the latest issue of the Journal of Inter-Religious Dialogue on pages 57-58 in an article titled "Pluralism: Problems and Promise."
Our very own Aziza Hasan authors a piece also published in this JIRS 17th edition on the power of NewGround's transformative approach — enjoy learning more about us in "The Power of Relationships and Personal Story in Transforming Community" on pages 20-27! Click HERE to view it.

NewGround Presenting at Parliament of the World's Religions
A group of NewGround alumni will present at the Parliament of the World's Religions Conference to be held in Salt Lake City with over 10,000 people coming together from all over the world! .
What is the Parliament of the World's Religions? 
The Parliament is the oldest, the largest, and the most inclusive gathering of people of all faith and traditions. The first Parliament took place in 1893. Since then, this historic event has taken place in Chicago, USA; Cape Town, South Africa; Barcelona, Spain; Melbourne, Australia, and now in Salt Lake City, Utah. Its mission is to promote understanding, cooperation, and collaboration among religious communities. 
Click HERE
 for more about the Parliament.
In the 2015 Parliament, prominent world faith leaders are attending including, His Holiness the 14th Dalai Lama; Dr. Tariq Ramadan, Rabbi David Saperstein, Dr. Eboo Patel, Karen Armstrong, and Nobel Peace Laureates Mairead Mahuire. For a full list of all the major speakers, 
click 
HERE
. The Parliament is an amazing venue to share what we have learned at 
NewGround
 with other members of the interfaith movement from around the world!
What is the goal of presenting our workshop at the Parliament of the World's Religions?
Our intention and goal is to inspire the attendees to build relationships, and create new ground, by applying the NewGround model in their home countries and communities.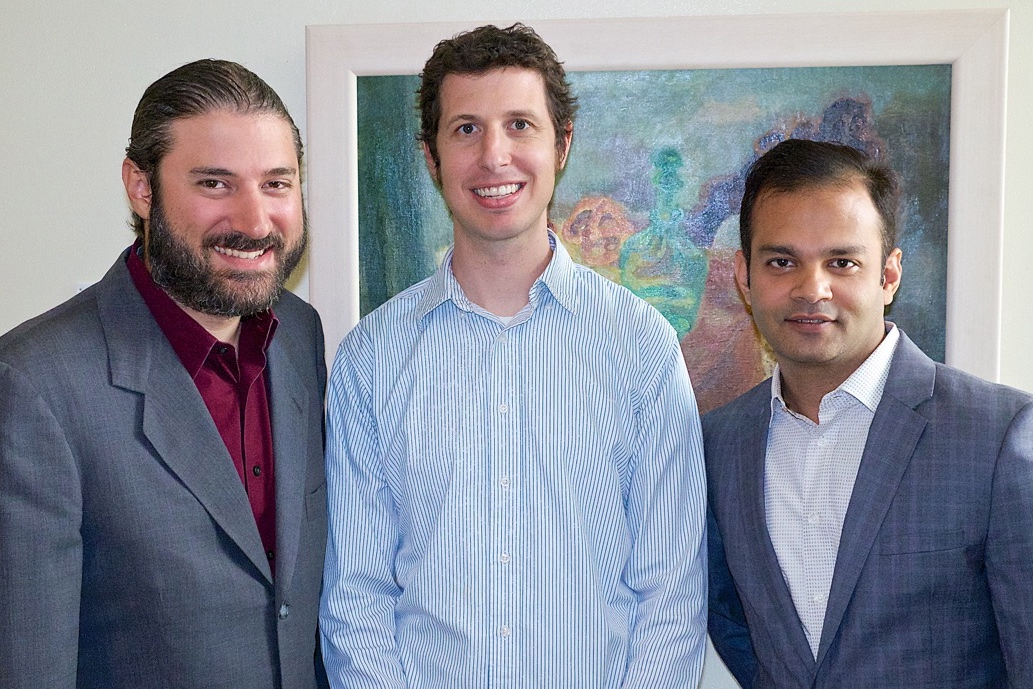 Change-makers, Faraz and Eliyahu, Represent NewGround at Adat Chaverim
"It was enriching to learn about the transformative experiences Eli and Faraz have had with NewGround. Their willingness to go beyond the normal "safe talk" of interfaith dialogue and navigate polarizing issues in a dignified way is truly inspiring. They taught us that understanding another's point of view requires deep and mutual respect. The work they are doing is greatly needed in our diverse and often contentious cultural climate." -Jonathan Friedmann, Adat Chaverim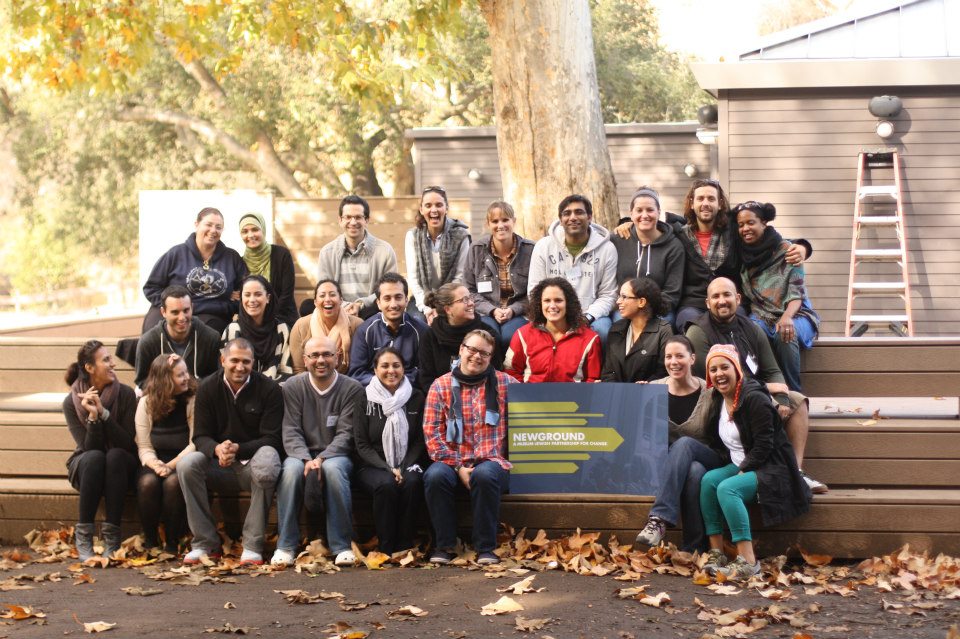 Listening and Achieving the Impossible Dream by Abigail Barash
Muslim and Jewish Young Adults Forge Community in Los Angeles
Can Jews and Muslims actually get along? For the average American, plagued by widespread misinformation and skewed biases from the media, this might seem nearly impossible. In light of the ubiquitous news of conflict in the Middle East, coexistence between these two faith traditions is often perceived as a lost cause. However, here in the Southern California a number of Jewish and Muslim communities are working in harmony towards peace and understanding.
One such group is made up of Jewish and Muslim young adults participating in a fellowship with NewGround. This particular NPO focuses on establishing a strong partnership between the Muslim and Jewish communities of the Los Angeles area. This past November, the 2012-2013 fellows had the opportunity to meet for the first time, myself included.
As a young Jewish woman, having recently moved to Claremont to pursue interfaith work, I was ready to put what I had learned thus far into action. About 25 Jews and Muslims, all in their 20s and 30s, were coming together to form a new cohort of change-agents for the world. Each of us with our own starting points, diverse cultural backgrounds, and preconceived notions about "the other" (conscious and subconscious), had agreed to set aside our differences for the time being to work towards cooperation.
There was a consensus in our respective communities that change needs to be prioritized. Perpetuated ignorance, a lack of yearning to know the real facts, and stereotypes are enabling factors which result in an unwillingness to accept "the other." People are often afraid of what is different or unknown. We thrive on being able to categorize groups or individuals. The minute we experience difficulty in labeling, we make judgments, often negative ones. For that reason, NewGround is committed to helping the Muslim and Jewish communities learn more about one another. The best way to start achieving a greater acceptance of "the other" is through the dissemination of accurate information. Through the fellowship, NewGround has recognized that we, the fellows, have the capacity to be our most effective educators.
In order to gain more insight into the religious other, it is imperative to study the art of communication. My communication skills have been enhanced through the Fellowship. The most difficult aspect for me is being an active listener. Naturally, people tend to interrupt others; signifying their own personal interest as opposed to truly wanting to hear what the other person has to say.
As fellows, we were encouraged to practice allowing our conversation partner to express him/herself fully, without interruption, maintaining focused eye contact, and providing genuine interest. After the fellow has finished what they need to say, it is important to repeat back to him/her what we believe we have heard. In reflecting the message back to the speaker, this indicates that what they have communicated has been received and solidifies the importance of their message. The purpose of this skill-building activity is to cultivate active listening into our daily lives. Once this becomes habitual, our day-to-day conversations become healthier, within our own communities and beyond.
With the foundation of effective communication, the fellows have been successful in teaching one another about Islam and Judaism. We tend to focus on what our faiths share, our similarities. However, we make certain not to overlook the important distinctions which make our religious traditions quite unique. Through our conversations, we are able to destroy common misconceptions that desperately need clarification. To that end, we strive to become strong advocates of fighting against Islamophobia and anti-Semitism. By the end of the fellowship, it is my hope that we can take the skills and information learned through NewGround to provide our respective communities with the tools they will need in order to become experts in interreligious bridge-building.
I am extremely blessed to be a part of this cohort of amazing Jews and Muslims. We are committed, brave, forthright, energized, and passionate about working for the betterment of Jewish-Muslim relations. We understand there is an unprecedented need and we know there is still so much work to be done. When asked what their experiences have been like thus far, some of the fellows have responded with the following:
"NewGround has been mostly an experience of a community of people with much in common, including: learning, fun, and friends, plus the added feeling of contributing in a small way to the healing of the world." –Seth Weiner
"This fellowship has been a mentally rewarding and uplifting experience; and I am proud to say that I have made some new friends for life!" –Rumaisa Rahman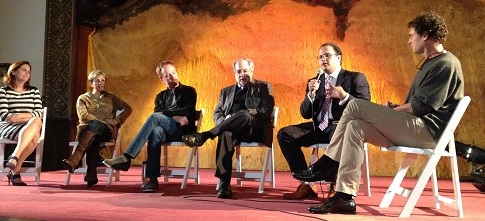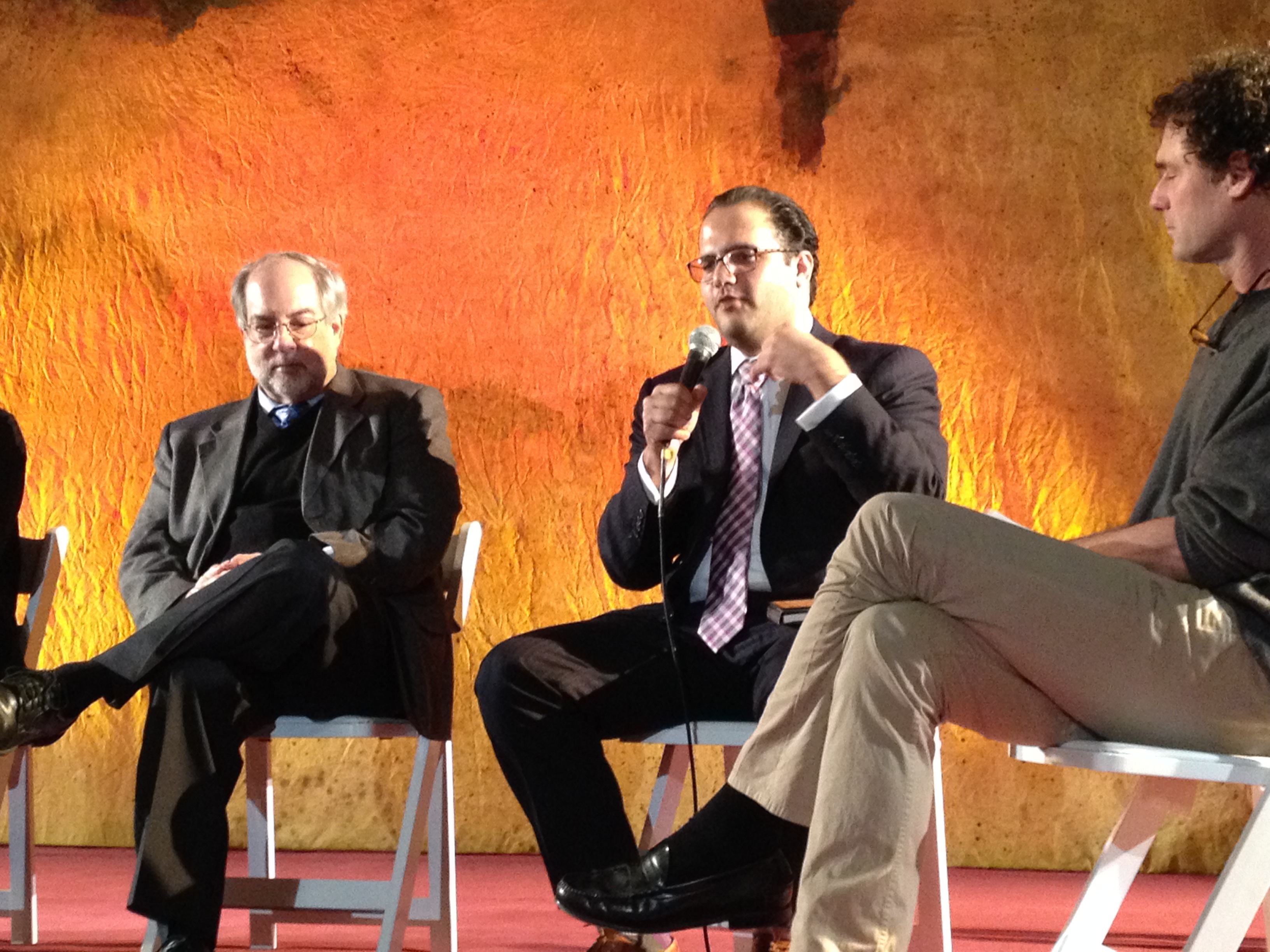 NewGround Change-makers at Wrestling Jerusalem: NewGround Facilitator, Ramin Nematollahi, Speaks on a Panel at the Pico Union Project:
Wrestling Jerusalem is a dynamic one-man play tackling the very complex discussion on the Israeli and Palestinian conflict through the eyes of numerous characters created by Aaron Davidman. The play exemplified the power and sanctity of listening. Listening to different ideas, different views, and different people, all seemingly looking for a solution, perhaps being the solution.
I had the honor and privilege of serving on a discussion panel to reflect on the play. I spoke about the correlation between NewGround'smission of transforming communities by bringing together Jewish and Muslim change makers and engaging in intentional and active listening in an effort to support a process of collaboration.
I also spoke about the overall complexity of the issue and the challenging but necessary task to steer away from polarizing detractors so that the gates to communication do not collapse
Do you have a Change-maker story you would like to share with us?

Remembering and Honoring Our Change-maker, Dr. Maher Hathout:
Aziza Hasan Appears on Straight Talk Podcast to Talk about Resolving Conflict
"Don't lose yourself to anger. The best you will do is succumb to the behavior of the person who made you angry."
–Dr. Maher Hathout
Listen to NewGround Executive Director Aziza Hasan speak with the late Dr. Maher Hathout in the first of a 2-part series on "Practical Tips for Resolving Conflict." Enjoy these precious gems of wisdom on how to transform conflict in our lives.
Board Member Rabbi Sarah Bassin reflects on Dr. Hathout in the Jewish Journal
NewGround's former Executive Director, Rabbi Sarah Bassin, publishes her reflections on the passing of Dr. Hathout in a moving op-ed in the Jewish Journal, titled, "I Miss His Voice."
In it, she translates the significance of his passing into the Jewish community context: "His passing would be like the death of our early Reformers – Isaac Mayer Wise and David Einhorn. These giants of Reform Judaism defined what it meant to be Jewish and American simultaneously without apology or compromise. That is who Dr. Hathout was for so many of my Muslim friends who mourn him."