A Night to Inspire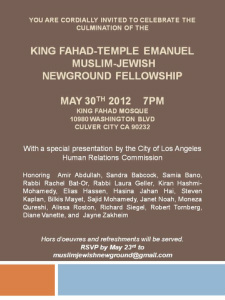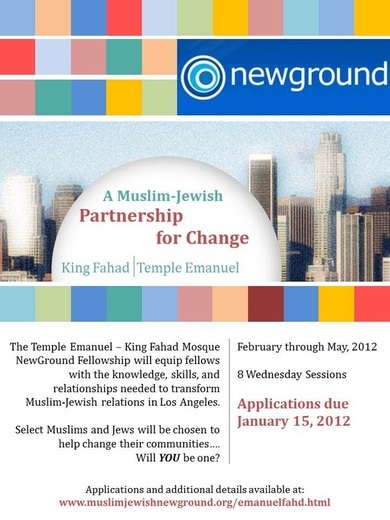 Wednesday, May 30th 2012 7pm
King Fahad Mosque
10980 Washington Boulevard
Culver City, CA 90232
Join NewGround's fourth fellowship cohort to hear a night of inspiring stories and exciting Muslim-Jewish projects on the horizon.
Over the last 4 month, the 18 fellows from Temple Emanuel of Beverly Hills and King Fahad Mosque of Culver City have developed the relationships, skills and ideas needed to strengthen Muslim-Jewish relations. Over the next year, their projects will come to life and engage the city with a new vision of Muslim-Jewish partnership.
Seating is limited. Please RSVP before May 23rd to reserve your spot.
Temple Emanuel-King Fahad NewGround Fellowship
These two congregations have partnered together for occasional programs for more than three years and approached NewGround to help take that partnership to the next level.
This spring 10 Muslims and 10 Jews from the two communities have committed themselves to eight meetings over three months to strengthen the bond between these communities and develop a vision for moving forward. Guided by NewGround's professional facilitators, these participants are learning key skills in communication, conflict resolution, and relationship building to help lead their faith communities toward greater partnership that will last for years beyond their intensive fellowship experience over the next few months.
The application process for the fellowship is closed and fellows have been chosen for the February-June 2012 program.